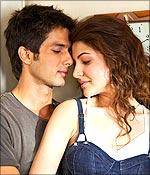 Well, if you put it that way, no.
It's all very technical, you see. Con capers test a viewers' willingness to acknowledge a scam for what it's worth. Even the slightest prejudice and it won't work. I mean, what is a con really? Pulling off the ludicrously unthinkable, agreed? By rule it cannot be right or make sense. If it did, it wouldn't be a sting but business as usual.
Deep condition this thought and Badmaash Company will actually entertain you for a good hour and a half.
But isn't it like two-hour something long?
Remember the 'all THAT bad' in the original inquiry? Here comes the not-so-good part. Personally, I hate breaking a film into two parts but there's no other way to review Badmaash Company, which is like watching two movies.
Part one is enlivened by cheek and camaraderie whereas Part 2 brings out the Tillu (Andaz Apna Apna) within to speculate Main kaun hoon? Kahan hoon? Kooky but true.
So what's the deal?
Badmaash Company is set sometime in the 1990s, when getting bigger than one's boots wasn't 'in' yet. Here, in one of those Khosla Ka Ghosla prototypes reside a dedicated-to-desk dad (Anupam Kher), and cabbage-chopping mom (Kiran Juneja) along with their too-smart ass-to pursue-an-MBA son (Shahid Kapoor).
Least interested in following the 9-to-5 path his dad endorses, he sets out to realise his instant money-making schemes. To achieve that the lad forges a company with his three pals -- a skirt chaser (Vir Das), a boozer (Meiyang Chang) and a brazen babe (Anushka Sharma) resorting to twisted tricks and get-ups to evade tax and yield profit.
Is it any good?
The foursome bears eager, exuberant chemistry. Shahid and Anushka make visible effort to rise above their cursory characters and badly-written lines on the strength of their charismatic screen presence. The script, however, stubbornly cripples their co-stars Das and Chang from making any progress or impression. They are little more than props or occasional source of amusement.
For better or worse, actor-turned-director Parmeet Sethi doesn't spell things aloud so much. Although he gives into the temptation of a voice-over narrative, Sethi doesn't over think his protagonists or their motives, laying them out as they come giving his audience the liberty to figure them out on their own.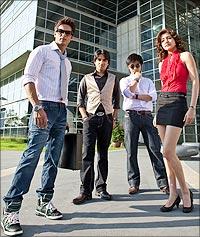 And do you?
Not once. The 'Company' becomes about one individual and his learning lessons.
What appears to uphold the feature's chilled-out state during the first-half soon fizzles into no-fun zone. One fine day, characters, without any real provocation begin to suffer from conscience pangs, flustered egos and inflated self-esteem.
Bummer?
As much as you appreciate the absence of mafia run-ins and telephonic blackmails in this game of bluff, it soon becomes clear that Badmaash Company plans to rest on the laurels of one measly ploy throughout the film. And so you have the same trick recycled against a medley of make-up aided camouflage and David Holmes-inspired background score (provided by Julius Packiam).
Absence of crisp wit, sassy attitude or engaging sub-plots highlights the mundane nature of their actions making it all the more unconvincing.
If only Badmaash Company wouldn't take itself so seriously. That only contributes to its unstoppably sloppy second half.
Being predictable is not its only crime. For the longest time, it rambles about painfully to underscore Shahid's riches to rags moment. Just when you think Sethi's made his point on greed and honesty, Badmaash Company comes up with a new brainchild titled Bleeding Madras.
What? Now? After dragging on aimlessly for hours (it certainly feels that long) they finally think up a brand new scheme?
Irritation aside, in retrospect, this one's rather novel even if implausible but Sethi's lost us so long ago, there's no scope for a re-connect.
This brings us back to our original question? Bad or not?
It's not a great film by any measure. But it's not offensive either. Badmaash Company with its sufficiently glossy visuals (camerawork by Sanjay Kapoor) is watchable to an extent, even if only for its relevant, potentially-fine theme of a materialism-driven generation and its accommodating ethics when it comes to making quick, big bucks. Too bad it's never exploited beyond the actors' well-sculpted surface and designer wardrobe.
Con capers have little to do with sincerity and more with the art of honouring slick technique and masterful, quick-witted execution. They run on fresh tricks and there's no place for loopholes.
Sethi's directorial debut starts out with cocksure confidence and zing but soon runs out of mischief, bonhomie, wizardry and pretty much everything else.
Rediff Rating: