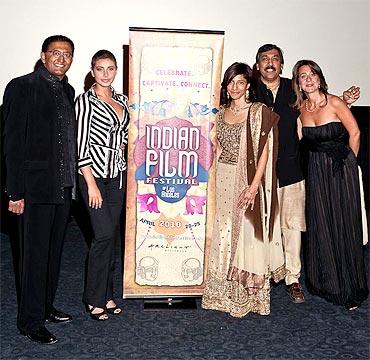 Red carpets, flashing cameras, actors giving television interviews while awestruck fans gawk are nothing novel in Hollywood.
But it is unusual in that all of the above were not witnessed at a purely Hollywood event, but the closing night of the Indian Film Festival of Los Angeles, and only the eighth incarnation of the annual function at that.
Held April 20 to 25 at the Arclight Theatre, the festival featured films centering on all things Indian. Traditional Bollywood fare like the Aamir Khan-starrer 3 Idiots were screened alongside with less widely known independent projects like the Konkani language film Man Beyond The Bridge.
The short film Victor Ramirez, Asesino, which had its world premiere at IFFLA, does not feature an Indian protagonist, or an India heavy plot line, but is helmed by Indian director Ravi Kapoor.
Similarly, the closing night film, The Waiting City, is set in India, but is directed by Australian Claire McCarthy, and is about an Australian couple on an adoption journey.
While there was an Indian angle in every film, Cooking With Stella cemented IFFLA's role as industry bridge. Presented by the Screen Actors Guild, Telefilm Canada, and the Canadian Consulate of Los Angeles, this was the directorial debut from acclaimed photographer Dilip Mehta, filmmaker Deepa Mehta's brother.
SAG National Executive Director David White stated he was "thrilled to support [IFFLA] in its efforts to expand the relationship between Hollywood and the Indian film community."
This year's IFFLA also worked to increase disease awareness. The opening gala was a benefit for myeloma and bone cancer research. Cooking With Stella's lead actress Lisa Ray is in remission from cancer.
This year's IFFLA also featured the premiere of a special director's cut of the Bollywood film My Name is Khan, starring Shah Rukh Khan and Kajol.
Image: The Cooking With Stella team with IFFLA officials. From left, Arnold Peter, IFFLA board chair, Lisa Ray, composer Amritha Vaz, director Dilip Mehta, and IFFLA Executive Director Christina Marouda.