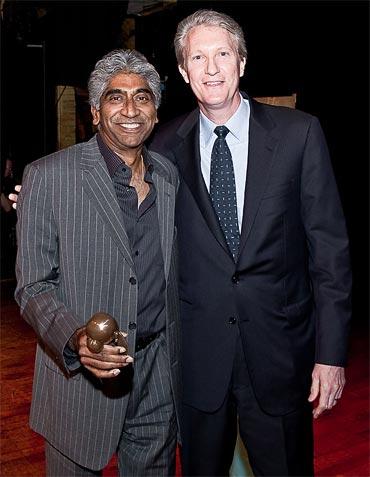 The Indian Film Festival of Los Angeles has become a portal for the Indian film business in a post-Slumdog world.
While IFFLA is primarily delivers a diverse variety of films and filmmakers of an Indian background, it works behind the scenes towards another goal: Fostering relationships and recognizing nascent talent.
One exciting event of this sort is the Korn/Ferry Dinner, which recognizes rising female talent within entertainment and business.
Christina Marouda, the festival's executive director, said she was "very excited to see women of South Asian descent being recognized. Women executives tend to get overlooked so we're happy to put the spotlight on them," she said.
The honourees included top executives from media powerhouses like Sony, Comcast, and Disney, and PepsiCo CEO Indra Nooyi, as well as prominent creative talent, including director Mira Nair and author Jhumpa Lahiri.
New this year was the awarding of IFFLA's first Film Fund Development Grant, designed to help a gifted emerging filmmaker bring his/her ideas to fruition.
The winner is provided support on every step of the filmmaking process from development to distribution. This year's winner was Kranti Kanade, who was awarded the $10,000 development grant for his script Against Itself.
"I am truly grateful to IFFLA for giving me this award and this amazing opportunity," he said.
Amidst the hustle and bustle of festival screenings, the glamour of galas, and the fostering of talent and artists, IFFLA positions itself as a place for talk about business, too. Danny Boyle's Slumdog Millionaire made a splash in 2008, and opened up a greater interest in India's role in global film business.
IFFLA's commitment to nurturing new interest was exemplified in its Industry Leadership Awards, which this year honoured Sanford Panitch and Uday Shankar, both of whom have done well in the still developing field of Hollywood-Bollywood relations.
Panitch was recognized for getting Fox International Productions to release the Bollywood blockbuster My Name Is Khan. Shankar, as CEO, Star India, was recognized for transforming the Star brand into an integrated media company.
Also honoured was film producer Ashok Amritraj, who received the Industry Trailblazer Award in honour of the release of his 100th film and a Hollywood career spanning 30 years.
Arnold Peter, chair of the IFFLA board of directors, noted: "With the Industry Leadership Awards and several other initiatives, we are taking advantage of our proximity to the business and financial center of the entertainment industry."
Image: IFFLA Industry Trailblazer Award winner Ashok Amritaj and Overture Films CEO Chris McGurk.