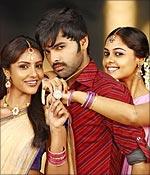 The story of the Telugu film Rama Rama Krishna Krishna (RRKK) directed by Srivass goes like this:
Ashok Deva (Arjun) who is forced to take up arms becomes a 'don' in Mumbai. He puts his sisters in a hostel in Nasik. His wife (Gracy Singh) falls prey to bullets from the rival don Pawar. Before her death, she pleads with him to give up violence as she fears for his life and the lives of his sisters.
After she dies, he shifts lock, stock and barrel to a small village Gandhipuram on the banks of the Godavari. One of his sisters falls in love with Anand, the son of Chakrapani (Nazar). Due to the animosity between the two families, Anand and Sirisha are unable to express their love but Ramakrishna (Ram), Anand's brother and Priya (Priya Anand) help the lovers. Can Ram and Arjun overcome all the hurdles?
Director Srivass treads a safe path in Rama Rama Krishna Krishna. With a thin storyline, he builds up the screenplay and all the necessary ingredients to entertain.
There is enough action thanks to Arjun and Ram, a few songs and dance which showcase Ram's prowess as a dancer, comedy in the form of Brahmanandam, a village ambience, two heroines Priya and Bindu Madhavi to give Ram company as well as to add glamour.
Srivass does not diverge from the commercial elements. It's more of an action film where the love track between Ram and Priya could have been developed better.

But it's Ram who shines all the way -- be it in fights, dances or as the brother shouldering responsibility. He does all with panache. He's cool, casual yet confident. He is terrific in his dances and does some dare-devil stunts. 
Arjun is back as the action man and he too puts in a good performance which is restrained in the second half.
Priya is effervescent in the first half and subdued in the second. After Leader, she succeeds in this mainstream film. Bindu Madhavi looking quite svelte these days fits in her role. A slightly plump and jaded Gracy Singh does a cameo. Brahmanandam in his usual way provides respite with his comedy. Once agaian, Nazar is seen as a patriarch. Roles such as these are child's play for him.
Technically the film warranted strengthening. RRKK is an entertainer but go without expectations.

Rediff ratings: