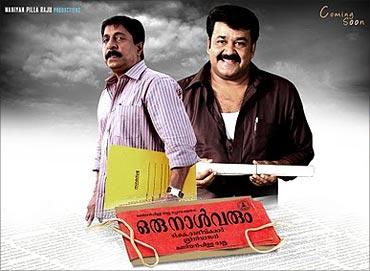 A court has issued a stay on the release of Mohanlal starrer Oru Naal Varum till May 21 on a petition alleging plagiarisation.
District Judge M P Ismail on Wednesday stayed the release of the much-hyped Malayalam film, scheduled to hit the theatres on Friday on the petition by K V Vijayan, a teacher, who alleged that film's scriptwriter Sreenivasan had copied his script.
The court has now summoned Sreenivasan, Director T K Rajiv Kumar and Producer Maniyan Pillai Raju to appear before it on May 31.
Vijayan, who had worked as an Assistant Director in Gulmohar directed by Jayaraj, claims he had submitted the script to Sreenivasan last year, but it was rejected by him.
Vijayan also produced in the court a copy of the script that was published as a book in February last and a copy of Sreenivasan's interview in a film magazine narrating the storyline.
Sreenivasan was earlier accused of "stealing" a story penned by one Satheydran Poyikkavu for his highly successful Kathaparayumbol, which co-starred Mammootty.
Mohanlal and Sreenivasan have come together in Oru Naal Varum after a gap of six years since their mega hit Udayananu Tharam.
Oru Naal Varum narrates the story of a farmer who migrates to a city for educating his children and his troubles encountered when he plans to build a house.