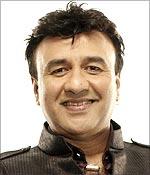 Throughout its first four seasons, Indian Idol welcomed many music industry titans to judge its competitions.
Sonu Niigaam, Farah Khan, Alisha Chinai, Udit Narayan, Javed Akhtar and Kailash Kher all spent time critiquing and evaluating India's top amateur musicians.
But, while they've all come and gone, one judge on the show has remained constant: Anu Malik.
Now, for Indian Idol 5, the 46-year-old composer finds himself alongside Sunidhi Chauhan and Salim Merchant.
Anu Malik spoke to Patcy N about the current crop of contestants, his penchant for arguing on the show and why he almost quit Indian Idol 5.
What were the criteria for selecting the contestants this year? Why were you praising the media so much?
There is a reason why I praised the media. The first four seasons of Indian Idol did really well. But whenever I read stories and comments in the media, they said 'The show is fantastic, but the singers could be better'. They said I was very good and honest, brought glamour to the show and sometimes even sang and danced!
But they wanted the singers to be better. Whenever the media uses constructive criticism, I understand and take their advice and do something about it. I am 46-years-old now, and started working in this industry when I was just 16. I've been doing it for 30 years now. I know how the industry works.
Indian Idol is about singing. It is not about the judges. I don't want to take all the credit for myself, but we three judges promised ourselves that we would look for good singers this time. For that, we fought and argued with each other, to give the best possible participants.
As soon as the judges were announced, we all sat together and said, "If the tagline of the show says 'Desh ki awaaz', then we should actually look out for desh ki awaaz."
So we went to every corner of India and got talent. In fact I went for the pre-auditions round in colleges in Rohtak, Haryana. We actually went to the villages and brought back some gems like Swaroop from Rajasthan. He is a folk singer, who has never sung a Bollywood song. He is on the show now, and wears his traditional attire so that he doesn't lose his identity.

Is it true that there are singers in this year's Indian Idol who have participated in other singing reality show?
We have our own rules for the Indian Idol participants. The first is age limit: 16 to 29. So, many of those who participated in last four Indian Idols were also eligible to audition this year because they fit in the age bracket. I tell the participants who audition and fail but have good potential to work hard to try again next year.
Likewise, if they participate on other reality shows and failed there, and then auditioned here, it's completely alright. This program is not about ego or attitude; it is about that one voice that will be India's voice.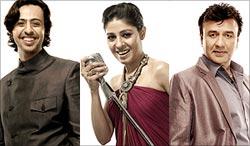 Indian Idol is about finding a sweet voice, but there are so many arguments and fights on the show. Can they be avoided?
You are saying this because you have not seen the pain the judges go through. You have not seen the environment there, when lakhs of participants come, with their parents and family members, in front of you, and you have to select just a handful.
The environment is so intense that sometimes the participants get upset and angry with you, and question your credibility. You have to answer them.
The arguments are not planned and not there for TRPs. Suppose I dislike a singer and the other two like him or her, there is bound to be an argument. But that does not mean we don't know our jobs.
Plus it is not a personal fight. Again, let me specify that the whole fight is for that one voice. We have trained with talented people from the Indian music industry, like Lataji. Ashaji, Rafi saab and Kishore Kumar.
I have imparted that knowledge to the singers of today like Sonu Nigam, Sunidhi Chauhan and to my daughter Anmol. So now, when I am a judge, I impart knowledge to upcoming singers.
Why are there so many differences of opinions between the three of you?
Every composer has his own passion and his own style of working, so when the composer listens to a singer, he imagines the singer's voice in a certain way. If there are two composers, there will be a difference of opinion, because both composers have thought different things in their minds about the same singer's voice.
Sunidhi is an established singer. If a singer is not singing well, she starts singing. So I tell her that 'Sunidhi, you are an established singer now, but that upcoming singer will take time to reach your level.'
But she insists that the singer will have to sing in a certain way. Then we have arguments, but these are not personal fights.
Over the five years you judged Indian Idol, have you noticed any changes in the type of contestants on the show? They look more polished.

Yes, not only the contestant, but India too is now ready for the future. When I speak to my daughters -- Anmol, 19 and Ada, 16 -- I can see the change.
Anmol was just 17 when she sang the song Main taalli ho gayee, from the movie Ugly Aur Pagli. After that she chose to study. She is studying in the UK, and I respect her decision.
I told my daughter: "I struggled a lot in this industry, and your very first song is a super hit. What do you want to do?" She said, "I want to sing, but I also want to study. My wife and I are very proud of her decision.
The talent we have here is so organised now. These contestants are ready to take on the world. But they should not have too much attitude. I have been hurt because of my pride before, so I want these kids to be humble. I don't want people to do what I did and go through the hardship I went through. Abhijeet Sawant won because he was humble. I told Rahul Vaidya that he was great singer but that there was pride in his eyes, and the audience could see it.
What were the difficulties that you went through in your career?
You can make a film out of my struggles in the industry. Only my family knows my story. During our days, there were no reality shows. I would take a harmonium and go door-to-door to meet producers and directors, play the instrument and ask them to help me and give me work. That hard work and angst is still inside me, and that's why I'm still working and getting work.
We heard you were going to quit Indian Idol 5?
I don't want to comment on that. Having said that, I would like to add that I have been part of all four Indian Idols, and that this is my fifth season. Ajit Thakur, Business head Sony TV, said that: 'Anu Malik is the face of Indian Idol, and we will do all Indian Idols only with Anu."
I think that was a big compliment. Sony TV is like my extended family. There is no conflict between us. I love them.
What are the films for which you are composing for?
My forthcoming movies are Toonpur Ka Superhero, starring Ajay Devgn and Kajol. Farah Khan has asked me to compose one song for her film. She is my friend, so I will do it for her. Things have begun and Anu Malik back in the mood again. My audiences tell me that they miss my work, and it really motivated me.