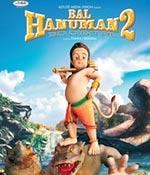 Since this is a sequel it goes without saying the first film would have done well. 
As Hanuman is a much-revered deity, most people would return to the theatres for the second part. Thankfully the producers (Astute Media Vision) haven't taken advantage of this fact.
The film is targetted at the really young viewers (ideally under 12-years-old) and the story line is simple...
Hanuman as a child is aware of his own strength. He doesn't misuse his abilities. And he is able to recognise the demons (rakshasa) even when they appear in different forms. So he fights them single-handedly. But when he returns home he's just a simple lovable little boy. With an unbelievable appetite. Who is petrified of incurring his parents' wrath! 
Even as he makes amends with his parents, he sets out again to combat a herd of elephants who seem to be going berserk in the forest. As Hanuman keeps on battling with the evil forces he realises the need to train his mind as well. He approaches Surya (the sun-god) to accept him as a pupil.
Hanuman is now in a position where he can easily destroy his opponents but this is mythology for kids. Nobody dies, no one is killed the wicked ones are merely taught a lesson so they learn to behave.
The film has been shot in 3D format and the special effects are convincing. Most especially when Hanuman appears to be flying towards you with his gada (mace) in hand!
Or when the demons of snap their monstrous mouths at you, it's a creepy feeling. A word of caution for urban kids who have grown up on Alice in Wonderland and How to Train Your Dragon: don't compare Bal Hanuman to other 3D adventures. Just enjoy this for what it is.
But BH 2 has some serious flaws. We agree that Hanuman is associated with power and strength so the action sequences would form a major chunk of the film. But they tend to get a bit repetitive. It would have been nice if one could get more glimpses of Bal Hanuman's character as a child.
And so much effort seems to have gone into the visuals and special effects, that the soundtrack seems to have been neglected.
The dubbing artistes especially for the peripheral characters such as Hanuman's parents, his friend, the rishi, have all been chosen randomly. And in an animated film, the dubbing is the make-or-break factor. Dialogue delivery is stilted at most places. The spoken Hindi could have been made far more colloquial. The dialogues are reminiscent of the popular serial Mahabharat in the '90s. 
But what's really annoying is little Hanuman mouthing the lines 'Main Hoon Na' at least three times through the movie. Once would have been fine, it would have probably gone unnoticed but three times! Well, it was bound to happen.
All these years Bollywood heroes have been modelled as demi-gods who can achieve the impossible single-handedly. Now the reverse is happening and Shah Rukh Khan has become a role model.
The action sequences are also Bollywood-inspired with Hanuman swinging and whirling his mace, accompanied by loud sounds of dishoom-dishoom. These obvious pitfalls prevent the film from reaching out to an older audience. 
Despite these obvious snags, Hanuman is an endearing character and kids will love him. It's a must watch particularly for those who've survived on a diet of Superman and Spiderman so far. 
Rediff Rating: