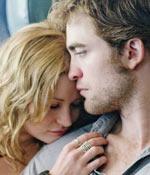 The lives of young people are filled with so much anxiety, thrill and quixotic moments, often of their making, it's almost impossible to resist.
More than ever if one of them happens to be the reluctantly handsome Robert Pattinson, better known as Edward Cullen to the Twilight-comprehending lot.
In Allen Coulter's Remember Me, his perfectly tousled hair, unkempt wardrobe and incessant smoking suggest the heartthrob vampire is making a genuine effort to not get trapped in Hollywood blockbuster/sequel/ franchise mode.
So here he is, sans make up or extrasensory gifts sinking his teeth into a role that requires to un-Edward himself with such poignant vulnerability, keenness and charisma, you'd be heartless not to appreciate.
The actor plays Tyler, product of an illustrious but dysfunctional family, based in New York City. His dad's (Pierce Brosnan sparkles in a brief role with seasoned grace) a busy shark committed to round-the-clock conferences, his mom (terribly underutilized Lena Olin) has moved on and married a reliable somebody, his elder brother is merely a tragic subject of conversation since he killed himself and his art-inclined baby sister (an exceptionally charming Ruby Jerins) is a victim of classroom bullies.
Tyler shares an apartment of questionable hygiene with his buddy Aidan (a jarring Tate Ellington), playing the ultimate Hollywood cliche of a libido-driven ninny.  
For all its predictable, superficial relationship sketching where most characters just pop up to fill in the slots around its wounded central protagonist, Remember Me has a flair for designing lyrical scenes.
Often Tyler looks out into the oblivion (Marcelo Zarvos provide a docile score setting the perfect tone for this restrained drama); his only companion a dreary cigarette and crumpled diary, pouring his thoughts into the latter, read aloud by his voice-over explaining the sub-text behind all the angst and his frequent trips behind bars.
And even though Tyler seems generally 'undecided' about everything, he's incisive enough to quote Mahatama Gandhi, 'Whatever you do will be insignificant but it's important you do it.'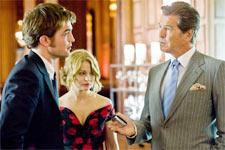 His unassuming charm soon enamours Ally (Emilie de Ravin, luminous but doesn't hold a candle to the soulful persona of her co-star) who also happens to be daughter of one of the cops (Chris Cooper gnarls and snarls) he had a run-in with previously.
The story takes a sunny turn when Tyler and Ally began to hang out together and consummate their wholesome romance and sultry impulses. 
Cinematographer Jonathan Freeman captures the understated splendour of their gorgeous affections with a mix of soft glamour and golden contrasts. He's notably tender while filming the warm bond between Tyler and his soft-spoken sister Caroline, especially in scenes shot around Central Park's Alice in Wonderland statue.
Meanwhile, Pattinson and de Ravin share a bright chemistry which ignites the screen and compels the viewer into wishing them a happily ever-after. Only Remember Me has a rather unexpected and unpleasant twist in mind.
Instead of brooding over it for long, however, you come out experiencing a sense of gratitude for the benefit of moments through complicated lives.
Remember Me lays out the bitter sweets of Tyler's life while assessing its merit and impact of those around him–love, family and friends. And that's a lesson you're not going to easily forget.
Rediff Rating: