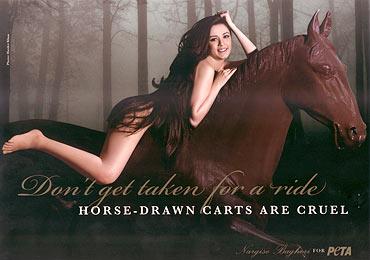 Living up to her movie title, actress Nargise Bagheri, who also acted in Khusti, is seen here astride a horse wearing nothing but her hair for People for the Ethical Treatment of Animals' latest campaign.
The actress joined the growing number of stars like Rakhi Sawant (tigers)and Sherlyn Chopra to protest against cruelty to animals.
In Nargise's case, it is horses, who are made to pull heavy carts laden with goods, and sometimes people, in the case of joy rides.
Nargise's message is this: 'Don't get taken for a ride; horse drawn carts are cruel and outdated and should be relegated to the history books'.