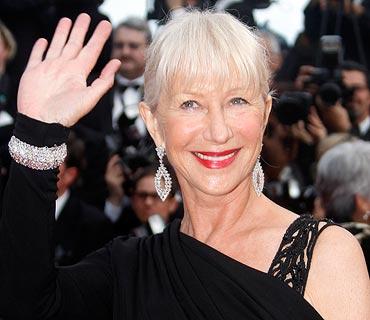 Dame Helen Mirren plays the role of a brothel madam in her latest film Love Ranch.
The film, which is directed and produced by her husband, Taylor Hackford, is based on the real-life story of Sally and Joe Conforte, owners of the Mustang Ranch bordello in Nevada, which became the first legalised brothel in the US in 1971.
'It was a rather beautifully written character, which was why I wanted to play her, and the film really appealed to me. I love the subject matter, I love the milieu, and I love the period -- the '70s,' the Telegraph quoted Dame Helen as saying.
The Oscar-winner researched the subject by visiting the present-day Mustang Ranch.
'I met the present madam, Susan Austin, and I found that enormously helpful. She's really taking her role seriously. There is the sense of being a businesswoman,' she said.
The film, which is released in June, is a rarity for the 64-year-old actress because it requires her to speak in an American accent.
Photograph: Eric Gaillard/Reuters