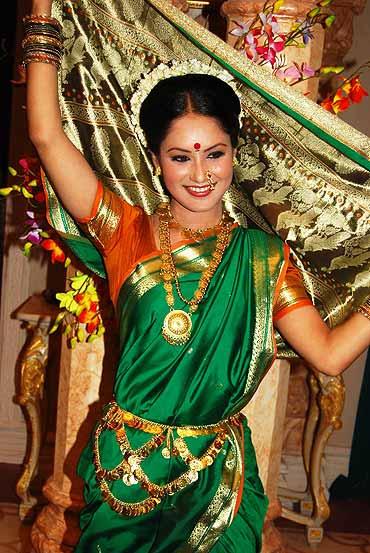 Imagine TV recently unveiled its latest show Sarvggun Sampanna which is set against a rural Maharashtrian backdrop.
This is the story of Swara, a young Marathi girl who earns her daily bread through Lavni dance.
Like everyone, her parents too want her to get married into a decent family but they have to contend with the stigma of being Lavni dancers.
Pooja Bose of Tuhj Sangh Preet Lagayi Sajna fame plays Swara. She is a trained classical dancer and says that her experience in Kathak and Bharathanatyam dance forms helped her while performing Lavni.
The first few days of shooting took place at Kolhapur in Maharashtra. She says of her experience shooting for the soap, "I completely got into the character after interacting with the locals. Kolhapur has a different culture compared to other areas of Maharashtra. People were very happy to know that the show depicts one of their own. They would keenly watch me perform Lavni."
Pooja also found the food spicy but loved eating the thali special. Pooja has been a Mumbaikar all her life, so speaking Marathi was not a problem.
Asked how comfortable she was in performing in the kahsta (Maharashtrian traditional sari), she says, "It is very difficult to dance in a nine-yard Maharashtrian sari with my hair in a bun. My head would start hurting after shooting continuously for 10-12 hours. But I can't help it because that is the look of my character."
Pooja is very happy that she has got a positive feedback for her show. "Family, fans and friends have liked the look of my character because it is different from the roles I have done so far. Ekta ma'am (producer Ekta Kapoor) complimented me on my dancing." [Smiles]
Asked about the male lead in the soap, she says, "I have not interacted much with him but I am comfortable shooting (with him)."
Pooja has done a couple of films before getting into television. She debuted at the age of 15 with Escape from Taliban and then a Bengali film with Ronit Roy.
But it looks like it would have to be dance for now, and she wouldn't mind showing off her skills on a reality show either. "I would love to do some dance based reality show if I am offered one," she signs off.