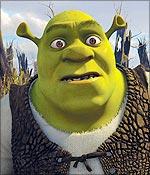 Shrek, the first film which released in 2001, was a landmark film at least for the kids.
Overnight the ogre became a much-loved buddy and not somebody to be feared. And when he finally wins the hand of his lady love Fiona, he's a changed man. 
Two more sequels followed at regular intervals. Gradually Shrek evolved from a rowdy, boisterous ogre to a much-married family man. And like most 'happily married' men Shrek misses his bachelor days. This craving for freedom practically ruins the kingdom of Far Far Away and spells disaster for Shrek. Will he succeed in overcoming the odds? Will peace return to this now troubled land? Or will this be the end for Shrek?
For those seeing a Shrek film for the first time, there is a small introduction to Shrek and Fiona and the peculiar curse Fiona was born with. If Shrek hadn't rescued Fiona in time, Fiona's parents would have signed over their kingdom to Rumpelstiltskin. Hence Rumpelstiltskin's long-standing grudge against Shrek. 
In a mood of utter despair and dejection Shrek stomps out of his kids' birthday party. He encounters Rumpelstiltskin who is waiting to trap Shrek. As Rumpelstiltskin deceitfully ensnares Shrek, Shrek is back where he started out. He must convince Fiona that he's her true love and that too in the short span of a few hours. Or else, Shrek will cease to exist.
A huge fear about this film has been the fact that it's been shot in 3-D. Will the special effects and the action sequences take precedence over the simple plot? Thankfully it doesn't happen. The narrative and the characters form the backbone of the film and the 3-D effects simply enhance the storyline. 
Essentially Shrek Forever After has the same plot as the first film which was a huge hit. So the producers were taking a risk. Yet they succeed in pulling it off.
As Shrek sets out to find Fiona, he's joined by all his old faithful friends. But there's a twist: Shrek is a stranger to them. He has to build his relationship with them all over again.
Donkey (Eddie Murphy) is as feisty as ever. He manages to get a laugh out of the audience from time to time. Unlike the earlier films which had people of all ages cracking up, Shrek Forever After is seriously low in humour. A real letdown!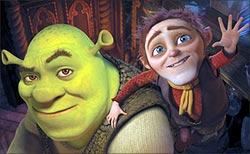 Puss is no longer the smooth-talking agile character he used to be. He's bloated and obese. The Pied Piper can make everybody dance to his tunes whether it is witches or ogres. Shrek and the other ogres tapping their feet is one of the more light-hearted moments of the film. As also when Shrek's kids appear on seen.
For those who believe animation films are all about Snow White and Cindrella and 'one kiss heals all', Shrek Forever After comes as a pleasant surprise. It tells us about the sporadic boredom which is a part and parcel of married life. About bachelors who remain unhappy as they cling to their past. Or women who stop believing in romance due to adverse circumstances. And a kiss however earth-shattering it may be momentarily will not last in the absence of true love. 
Some old time popular chart-busters like The Carpenters' Such a feeling's coming over me and Hello by Lionel Ritchie have been skillfully interwoven in the soundtrack.
Other than the humour aspect, the climax tends to stretch a little. These two flaws pull the film down. Otherwise the makers would have had a true blockbuster on their hands.
Being the final chapter in the Shrek series this film is a must-see for all Shrek fans. So also for adults who believe animation is only for kids. Come to think of it everybody needs to see this film unless of course you hate the genre. 
Rediff Rating: