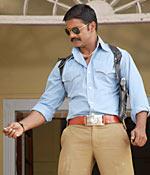 'Black Kobra' Vijay turns upright cop in the Kannada film Shankar IPS this weekend.
Director M S Ramesh repeats his hero from Takat in Shankar IPS, a film backed by a strong subject. It not only provides Vijay with a tailor made action packed role but also touches upon the acid attacks issue.
Vijay aka Shankar Prasad is a responsible and dedicated police officer who is set out to bring to book criminals, especially those troubling women.
Shankar cares two hoots about influential businessmen, corrupt politicians and is seen working just for the cause of the needy. But a case involving one of the leading ladies, Catherine Tresa, urges him to come out of the police department. Will he then give up the fight for justice?
Shankar IPS shows the police department in good light. The film also refers to several incidents that the country has witnessed in the recent past, such as the Afzal Guru issue, Kasab sentence or plight of women call centre employees.
However the main focus remains on acid attack victims and the need to have a comprehensive act to curb such incidents. 
Heavy duty action and Ramesh's punchy dialogues form a major part of the script. While most dialogues will get the masses going, there are a few that are crass. Vijay also fails to create an impact at certain places and blame his voice modulation for this.
His action sequences are also something that you have not seen before. However he carries off the various looks given to him well and looks fit.
Ragini Dwivedi provides the oomph factor and puts her modeling background to good use. Catherine does a decent job with her role. Shobraj, Rangayana Raghu as a lawyer, Avinash and Vinaya Prasad form the supporting cast.
There's nothing new about Gurukiran's music except for the song Satyam Sundaram… which provides ample scope for Vijay to show off his toned body. One of his outfits in the song is sure to give even Hindi film heroines a complex -- that's how short it is! To please the front benchers there is an item song too.
The climax gets a little preachy and the length could have definitely been shorter. But if you are a Vijay fan, then you won't mind this one bit.
Rediff Rating: