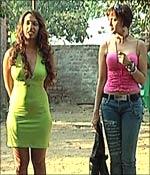 There's one thing to say about reality TV. It always manages to evoke a response from you. Disgust, contempt, revulsion are often the common gut feelings brought about by these shows. And ever since Kaun Banega Crorepati made its presence felt in households all over the country, each channel has tried hard to come up with something new to hook the audience.
This time around NDTV Imagine brings us Desi Girl. A reversal of the famous pardesi girl, Priyanka Chopra in her Dostana avatar. Possibly Katrina Kaif in Namastey London was the inspiration for this show. But obviously some 'creative' person thought it was a great idea to have eight close to size-zero 'item girls' prance around the village aiming to win the title of desi girl.
Eight Mumbai babes, (please note all the girls are from Mumbai) have been transported from the largest metropolis of India to a small village in Punjab.  For eight weeks they have to forgo the basic necessities of life such as their air-conditioners, luxury bathrooms and live two to a room in a tiny village. But the indignities don't end here. Each task assigned to them must be handled graciously with due humility and sincerity. If these codes of conduct are breached these girls will be banished from the village and unceremoniously dispatched to Mumbai.
Desi Girl begins with four brand new sparkling Mercs leaving a luxury hotel. Each car has two contestants inside. There is much swooning and crooning over the smell of fresh mud (in true Swades style). Suddenly the drivers of the car claim the cars can't go any further. So the eight scantily clad girls with leather boots and fake branded luggage are left in the middle of nowhere. Initially there is a half-hearted attempt to carry their luggage with them. Then they decide since this is a village, the luggage is safe in the middle of the road. So begins a quick march to the village.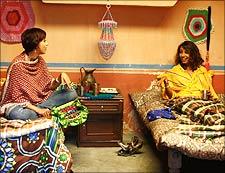 En route, they stop and sample some really high calorie food. After all, a village delicacy has to be duly appreciated. Rohit Roy makes an appearance explaining the show to the viewers. By now the girls have managed to hitch a ride on a bullock-cart which looks straight out of a '60s Bollywood film.
These girls reach the village where they are given a warm welcome. They are introduced to the panchayat and then Rohit Roy starts needling the girls. The writing on the wall is clear. While this is the first episode everything is very hunky-dory, but come tomorrow and the fights and rivalries will begin. After all in reality TV TRPs take precedence over everything else.
The art direction is consistently tacky. The background music is anything from Daler Mehendi to Hera Pheri  to Swades and DDLJ.
Now about the eight contestants; Ishitta Arun and Kashmira Shah will be sharing a room. The other combinations are Sambhavna Seth and Monica Bedi, Aushima Sawhney and Rucha Gujrati, Roshni Chopra and Anmol Singh. Since Sambhavna Seth and Monica Bedi were both participants on the second season of Big Boss it makes sense to toss them in together. A few well-timed barbs from the host and these girls will be ready to fly at each others throats. Kashmera Shah as usual shows too much of both; cleavage and attitude.
The girls are shown their accommodation but unfortunately their luggage is still a distance away from the village. Poor lasses just can't change into more decorous attire. They do receive a firm dressing down from one of the village elders. But for this episode at least the girls have a legitimate reason for being in skimpy outfits.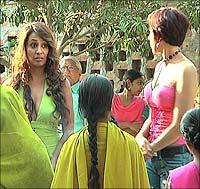 Most sensible viewers are aware that reality show contestant mouth dialogues as per the scriptwriter's and sponsors' whims and fancies. But what does one do when every line spoken seems to be well-rehearsed and pre-determined?
Anmol seems really excited about the process of using cow dung for fuel. Aushima is worried about waking up early. The presence of a fan in one of the rooms is greeted with much excitement. That's all for now. The girls are ready to turn in.
Tomorrow is a new day and will usher in fresh rivalries, more stupidities and higher TRPs. But today's show finally comes to a predictable and hackneyed end…