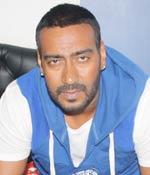 We're quite psyched about Prakash Jha's Raajneeti.
After all the movie, which is slated for June 4, boasts of an impressive star cast comprising of Nana Patekar, Ajay Devgn, Katrina Kaif, Ranbir Kapoor, Manoj Bajpai and Arjun Rampal.
In fact, Ajay Devgn, the usually reclusive actor, was ready to talk about his role in the political drama when he came for a rediff chat on Tuesday.
For those who missed the chat, here's what transpired:
Ajay Devgn says, Hi, everyone, I am ready for your questions.
petroleum asked, hi I am sikha ..a petroleum geoscientist..i am a graet fan of from Phool aur kante to till date..tell me some challenging experience in ur life..Regards sikha.. 
Ajay Devgn says, Everyday is a new experience.
sanjeev asked, i impressed with you and i have learnt more in my personal life. 
Ajay Devgn says, Sanjeev, that is inspiring for me too.
ashutosh.kumar@gmail.comashutosh.kumar@gmail.com asked, Are u really online? 
Ajay Devgn says, Ashutosh, yes I am online.
DadaBhai asked, Would love to see you blogging 
Ajay Devgn says, Dadabhai, let me get done with Twitter and Facebook then will think of blogging.
Ramjag asked, plz tell me your next project about golmaal 3
Ajay Devgn says, Golmaal 3 is bigger, funnier and use all the superlatives for Golmaal 3.
bharat242001 asked,  hi ajay!!! can u tell me hows ur journey from phool aur kaante to golmaal 2 ?
Ajay Devgn says, Bharat, no complains, smooth sailing.
Ashah asked, Its really great to have an actor like yours in Indian Cinema. There is no doubt that through Big Screen you have given us Indians and world a constant and vigorous thought process that should have developed much before. It would really matter a lot in development sector in India if you take out some precious time of yours for this sector too.. All the best for your future endeavors... 
Ajay Devgn says, Ashah, thanks so much. I really appreciate your comment.
KKR asked, hi ajay sir.. what i can tell you that you are a actor whom i rate equal to anthony hopkins and morgon freeman or our amitabh. What role you are playing in rajneeti? promos look excellent. 
Ajay Devgn says, Thanks for the compliment, I am playing Karna from Mahabharat.
sudhir1982 asked, We are kindly waiting for ur upcoming films, we are also more interested to see u again in pictures related to politics, since u suite the best in such roles !!!!!!!!! 
Ajay Devgn says, Check my Facebook. There are lots of them.
piyajain asked, aap kahan hai
Ajay Devgn says, Piyajain main aagaya hoon.
das12 asked, kya baat hai ajay ji on rediff? 
Ajay Devgn says, Das, kya karen aapne bula liya Rediff par.
KukuKohli asked, Hi Ajay , am planning a sequel of Phool Aur Kaante- Would you be intrested? I am offering you Amrish Puri's role 
Ajay Devgn says, Kuku, I like your sense of humour.
mangatravi23 asked,  hello ajay pls tell me when golmaal 3 is going to release 
Ajay Devgn says, Thanks, Golmaal 3 is releasing during Diwali.
Hetal asked, Hello sir Howzzz Kajol n Nysa ?? 
Ajay Devgn says, Nysa is doing fine.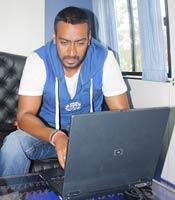 sumanta asked, hi ajay..nice to see u here...what is current film u r shooting?
Ajay Devgn says, I am shooting for Golmaal 3 in Mumbai now.
dcaresundar asked, if u like to work with maniratham sir
Ajay Devgn says, Mani Ratnam is a great director. The only thing is that he starts too early in the morning and I cannot handle that.
man asked, r u repeating urself in once upon a time in mumbai
Ajay Devgn says, I think Once Upon a Time in Mumbai and Raajneeti are similiar genre to that of Gangajaal.
dr.nisheeth asked, hi ajay....how was it working with manoj bajpayee....u both looked quite in sync together :)
Ajay Devgn says, Manoj Bajpai is a fab actor. We got along very well.
khalid345 asked, sir plz quit smoking
Ajay Devgn says, Not yet. Still trying to quit.
rohini asked, what is your pet name
Ajay Devgn says, There are lots. Kajol calls me J, my parents call me Raju and so does half of the industry, my college friends call me VD because my first name was Vishal.
ankur kumar asked, how was the experience of shooting vt prakash jha & his team again
Ajay Devgn says, Working with Raajneeti team has been great. My rapport with Prakashji is four films old. We are very good friends. It feels like a home unit.
abhishekgujjars@rediffmail.com asked>abhishekgujjars@rediffmail.com asked, please tell me about raajneeti
Ajay Devgn says, Raajneeti is a political drama in which you will know what all happens behind the scenes in politics. Lots of controversial stuff. My character is that of Karna's from Mahabharat.
nageshvrao asked, hello................... u here????
Ajay Devgn says, Yes, I'm here.
nageshvrao asked, hello................... u here????
Ajay Devgn says, Hi Nagesh, how are you?
vishaal asked, ajay tell me something about ur forthcoming movies
Ajay Devgn says, My next project is Raajneeti releasing on June 4. Then Once Upon a Time in Mumbai on July 30, Aakrosh in September and Golmaal 3 in Diwali.
mayankji asked, @ Administrator HI how are you?
Ajay Devgn says, Fine, thank you.
Ajay Devgn says, Log on to Facebook Ajay Devgn official page. Okay guys, got to rush. Shot ready. Bye.
Photographs: Hitesh Harisinghani