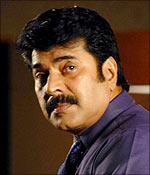 Malayalam superstar Mammootty has given the green signal to play the lead in award winning director Abhay Simha's first Kannada commercial venture Shikari.
Simha won the National Award for best children's film in 2008 for his Kannada film Gubbachigalu.
The film tells the story of a software engineer who likes a female character from a book and starts thinking, "What if she was real?"
Mammootty has a double role in the film -- that of a software engineer and the other of a rebel freedom fighter.
The heroine also has a double role. Hunt is on for the leading lady. The film also stars Adithya and Mohan in important roles. "I play a dream seller in the film. With Shikari, I'll have the distinction of having worked with both Mohanlal and Mammootty," says Adithya. 
Shikari denotes how people always keep hunting for something or the other. It is also about the hunt for something within us.
Speaking on why he chose to do the film Mammootty says, "Attempts are on to make meaning films -- both commercial and art -- in regional languages and as an actor, it is my responsibility to support such films. Also I'm all for working with new directors as they come with different visions, which help develop the actor in me. In fact over the past 15 years, I have been encouraging new talent and some of the directors I introduced have gone on to become big names in the Malayalam industry."
It was not just the two line narration he got from Abhay that motivated him to sign this film but also the prospect of the coming together of two cultures.
"Kerala and Karnataka are neighbouring states and I saw this as a good opportunity to exchange art and culture. I'm no stranger to this state as I have acted with several Kannada heroines and have known Vishnuvardhan and Ambareesh and watched Rajkumar's films. Also I have read various translated works of Kannada writers. So I am very much at home here. A Kannada film was always in the pipeline and I had been offered many movies before; it's not that I was reluctant to do them but somehow they didn't happen," he says.
Mammootty will dub for the film as well and is practising to speak in the language. "Right now I don't want to speak improper Kannada and create a bad impression about myself. But I will learn Kannada and speak when I am perfect in it," he says.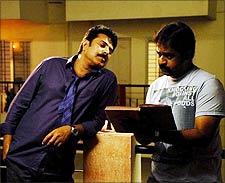 The actor is also getting a lot of praise for his hard work, simplicity and his humble attitude. For Abhay, especially, the actor is a pillar of strength.
"A friend of mine from FTI suggested that I approach Mammootty for the role. I knew I was aiming for the sky, but still went ahead and sent him an SMS saying I am doing a film and wish to talk to him about that. I was surprised when he called me in response. He then asked me to mail him the synopsis and I thought, okay this is how far it will go. But no, he asked me to come to Kochi and meet him. When I offered to give him a reading, he said, 'Why reading? I'm doing the film. It's my film now, you relax, I'm there with you," Abhay recalls.  
Mohan plays a script writer. "I have grown up watching Mammootty's films and it's a great honour to be acting with him," he adds.
The film will also be made in Malayalam as per Mammootty's suggestions. First the Kannada version will be shot in Bangalore and then the unit will leave for Kerala.
Chinni Prakash who has worked with Mammootty in the Hindi film Dharthi Putra has been roped in as the choreographer. Music is by Harikrishna. "We are trying out new sounds and have used a saw to create a different effect," says Abhay. K Manju is the producer.