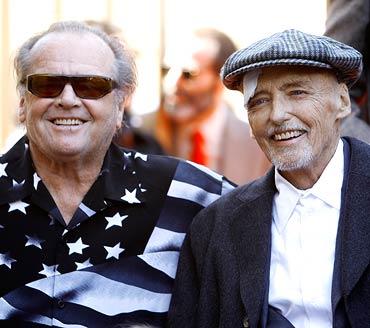 Hollywood star Dennis Hopper has lost his battle to prostrate cancer. He was 74.
The actor passed away on Saturday at his home in Venice, California, with his family and friends by his side.
'Dennis Hopper died this morning at 8:15 am from complications of metastasised prostate cancer. He died at home in Venice surrounded by family and friends,' the BBC quoted manager Sam Maydew, as saying in a statement.
Hopper met success with Easy Rider, as both director and actor, in 1969.
However, he became infamous due to rows with co-stars during the making of his 1971 film The Last Movie.
He waited for 10 years to get back lead roles. He received critical acclaim for his work in David Lynch's Blue Velvet.
Hopper married five times in his lifetime. He parted ways with Victoria Duffy in 2010.
Hopper was diagnosed with prostate cancer in 2009.
Image: Dennis Hopper (right) poses with actor Jack Nicholson at a ceremony where he was honoured with a star on the Walk of Fame in Hollywood, California in March, 2010. Photograph: Mario Anzuoni/Reuters