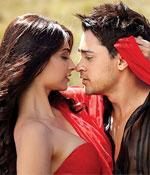 Ignoring the weird grammar logic behind its title, you browse through the colourful inlay featuring cutesy couple shots juxtaposed with cardboard hearts and movie reel. 
Karan Johar's latest production, I Hate Luv Storys has all its trademark eye-candy in place, alright. Pretty people, trendy clothes, funky decor and stunning locations, you get the picture?
Directed by debutant Punit Malhotra, this promising date flick explores the mysterious workings behind 'opposites attract' and stars Imran Khan and Sonam Kapoor. Composer duo Vishal-Shekhar signs up to infuse the right blend of zing and freshness to their young romance.
Vibrant and peppy creations have been a Vishal-Shekhar forte as witnessed in their works like Om Shanti Om, Bachna Ae Haseeno, Salaam Namaste and Bluffmaster. For its genre, I Hate Luv Storys may not be high on rapturous drama, it's sufficiently serene to keep the going good. While the arrangement is spiffy, the composers could work a bit on the melody bit.
The album opens with Vishal Dadlani wielding the mic to stylishly croon Jab mila tu, a not-so-distant cousin of Dostana's Jaane kyun in texture and tune. Its relaxed tempo and crisp urban sentiments penned by Anvita Dutt blend smoothly enough to ensure repeat value.
Considering the movie's confused-in-love theme, it's only appropriate for Shafqat Amanat Ali and Sunidhi Chauhan to feel the pinch of separation in Bin tere. Some curves of its tune are reminiscent of Shankar-Ehsaan-Loy' Mera dil (Salaam-E-Ishq). If the latter maintains an upbeat mood, Bin tere keeps it a curious mix of pensive yet peachy.  
Up next, Shekhar Ravjiani delivers an impressive, unplugged version of the same through Kumar's lyrics piled up with grief and regret.
There's still some more Bin tere to come. DJ Kiran remixes the same into an exhilarating, rave-friendly version making it perfect of those long, lonely drives.
Off with despair, Vishal brings the roof down with his sprightly rendition of the ultra buoyant, I Hate Luv Storys. Apart from offering a smug explanation for Imran's skeptical character, the title ditty celebrates the concept of no-strings attached with gay abandon. Tempting!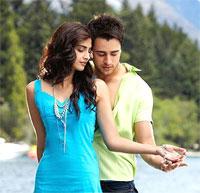 As if on a cue to shatter the wayward spunk of anti-romance enters the part-ethnic, part-Bollywood Bahara. For all of Shreya Ghosal's syrupy sweetness to compliment Sona Mohapatra's husky tones, Bahara doesn't have enough dreaminess or sizzle for the listener to get hooked. Despite its ho-hum status, trust Sonam's pixie-like charm to turn this into a visually enticing spectacle. 
Bahara's 'chill version', performed by the ever-sublime Rahat Fateh Ali Khan, scores favourably in comparison thanks to its diluted arrangement and the singer's crystal-clear fervour.
The soundtrack ends on a high note, literally and otherwise with Suraj Jagan, accompanied by Mahalaxmi Iyer, doling out a sensational pop ballad, Sadka. Like everything romance, this one too reiterates and rejoices in the power of the Big L.
Bottomline is Vishal-Shekhar's soundtrack for I Hate Luv Storys resonates the personality of the current generation -- zippy, capricious, and in-the-moment. And that's never too bad, right?

Rediff Rating: