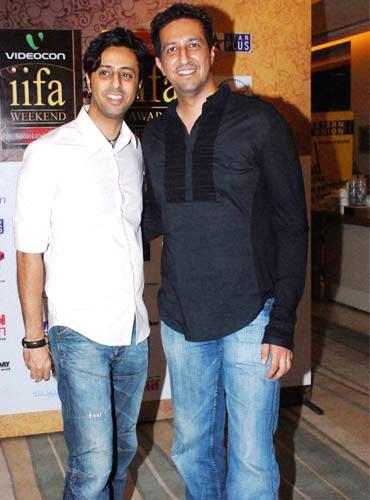 Musical brothers Salim and Sulaiman Merchant, who collaborated with South African singers Loyiso Bala and Eric Wainaina for the FIFA World Cup 2010 song on Africa, will perform at the opening ceremony of the games. 
The opening ceremony will be held on June 10 at Orlando Stadium in Johannesburg, South Africa.
Salim and Sulaiman Merchant have composed and recorded the song for the football extravaganza.
Rajul Hegde caught up with Salim, who is presently on Indian Idol duty as a judge for more. Excerpts:
How did you get an opportunity to compose for FIFA World Cup 2010?
Kareem Jamal, an Indian-origin businessman, suggested that we compose a song for the Republic of South Africa. We decided to make a song on Africa, the lyrics of which were penned by my wife (Jeanne).
The song touches upon the trials and tribulation that the country has faced in the past and how it has emerged stronger. It turned out to be a very inspirational and larger than life number.
He then suggested our names to the FIFA Committee and before we knew it, the organisers approached us to perform at the World Cup ceremony. Everything happened so fast -- within a month. We are glad that it worked out. 
Is it an anthem as reported?
The song highlights Africa more than it does football. It's not an official anthem. It's more of a motivational song. It's four and half minute long. It will also be used as a promotional song for Africa in the days leading to the World Cup. There are lots of other performances also.
Apart from this we are also going to sing our song 'Shukran allah' from Kurbaan with Loyiso and Eric. As for the sound of the song, it's a mishmash of African sounds with an Indian flavour. We have not yet got any confirmation to perform for the closing ceremony.
When did you record it?
African R&B artist Loyiso Vincent Bala and Kenyan singer Eric Wainaina fell in love with the track and came down to Mumbai to record it with us. The FIFA committee has already heard the song and they are happy with the results.
Sulaiman and I will also be performing at the Nelson Mandela Foundation on June 8 (a trust that is actively working towards providing medical assistance for corrective surgery of cleft lip). We will be singing Shukran Allah with Waninana, who will be performing a verse with us in an African language.
Are you excited about performing at an international level?
It is wonderful that we got an opportunity to compose a track. Yes we are really excited and honoured to get an opportunity to perform at such a huge platform. We are not jittery but yes we are more concerned about the quality of our performances. 
When are you flying to South Africa?
We are leaving on June 6 because we have Nelson Mandel's charity show on the 8th before the FIFA World Cup.
Image: Salim and Sulaiman Merchant | Photograph: Pradeep Bandekar