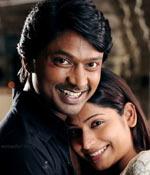 Pattiyal Sekar is known for his good taste in scripts. He proved it in Alibaba and repeated it with his latest Tamil flick Katrathu Kalavu.
The story isn't new, but is told in a refreshing fashion with a cast that sets out to have fun and gives you a good ride in the process.
The story begins at breakneck speed: Krishna (Krishna) and Krishnaveni (Vijayalakshmi) are in the Rameswaram temple, about to get married. But there's a sense of urgency. They look around furtively, as though expecting disaster to strike any minute. And it does. The moment Krishna ties the thaali around Veni's neck; they're nabbed by the police, headed by Stanley Devasagayam (Kalyan), a cop from the Intelligence Bureau, for crimes untold.
What follows is slickly executed chase sequence that bring you to the edge of your seat. A temple employee (Sampath) appears in the nick of time and carts them off to a safe house, but the couple lands from the frying-pan into the fire. He is Inspector Ramanathan, who was originally in charge of capturing them. He had nursed a grudge ever since the case was give to the IB.
Locked up, Krishna and Veni slowly divulge their story: She wanted to be an air-hostess and ran away from home; he was cheated out of his project by a prominent banker Ramakrishnan (Santhana Bharathi). With no resources, a burning need for money and a sense of revenge, the two decide to outwit Ramakrishna. One scheme leads to another, and there comes a point when Krishna is willing to take up crime as a full-time occupation.
Thus begins a series of heists, from stealing diamonds to selling AVM Studio to gullible men (Ganja Karuppu), some handled amateurishly, but others with slickness worthy of a duo practically born for crime. Pretty soon, blackmail gets tagged to the list -- although how Krishna ends up with equipment sensitive enough to blackmail Minister Vaigai Varadhan (Cochin Haneefa) is a puzzle. In between are tantalizing threads of romance, unravelled boldly to loud songs. Some of the songs are shot beautifully, especially Suthanthiram.
For Krishna, this is the role of the lifetime. Shorn of the silly moustache and beard, he looks youthful and acts up a storm. The disguises suit him well, and the screenplay is clever enough to rescue him where his acting might have floundered. He dances well and has a blast.
It's a joy to watch Vijayalakshmi. She might not satisfy the conventional ideas of beauty, but brings wonderful energy to the screen. Her body language is perfect. She adds something to every scene she's in, and a movie like this gives her plenty of scope to perform.
Sampath and Cochin Haneefa, as usual, do admirably. Kalyan, as the cunning IB officer is good as well. Ganja Karuppu, Chinni Jeyanth and the rest are adequate.
However, the real protagonist is the script, which shines despite a few sagging moments in the middle and Paul J's rather lacklustre music. Balaji Devi Prasad's direction, Ruben's dialogues, aided very capably by Nirav Shah's camera-work make Katradhu Kalavu worth a watch.
Rediff Rating: