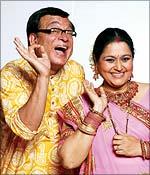 R
ajul Hegde reviews Khichdi.
For the first time in India, a television sitcom has been adapted into a movie.
And Khichdi The Movie is just as mindless a comedy as the television show.

All the characters are similar to the serial, and very likeable. The makers have not made too many changes in the film, and have retained the Khichdi magic on the big screen.

The gags are childish but funny -- right from the Eshwar (played by Satish Shah) sequences to the serving of pani puri at a condolence meeting up to the climax. All of Himanshu's (J D Majethia) neighbours are named Parminder, so it becomes easier to remember one name instead of all 60 people.

But sequences are over the top but still, they manage to amuse you.
The movie -- written and directed by Aaatish Kapadia -- revolves around Himanshu, who wants to have a memorable love story but doesn't have a girl. Luckily, his neighbour Parminder (Krithi Kulhari) falls in love with him and they get engaged.
Everything is hunky dory untill the wedding day when suddenly Himanshu realises that he doesn't have anything memorable -- no conflict or separation from his love -- to make the love story unforgettable. So the whole family gets together to make Himanshu's love story truly memorable, and that forms the theme of the film.
Khichdi The Movie
is a clean comedy without any double meanings. Supriya Pathak, Majethia, Rajeev Mehta and Anang Desai are efficient and competent. The new additions like Nimisha Vakharia (as Jayshree) and Kirti Kulhari (as Parminder) add zing to the movie. Even the songs are funny and the music goes well with the film.
Satish Shah, Farah Khan, Deven Bhojani and Paresh Ganatra put in great cameos, and embellish the mad humour.

But too many gags spoilt the broth somewhat, dragging the movie unnecessarily at the end.

Khichdi fans will love it because they are familiar with the exaggerated characters and silly jokes. But you can watch it even if you are not a Khichdi fan because it's such a stress buster.
Rediff Rating: