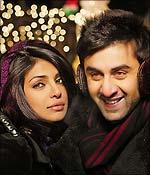 Sukanya Verma reviews Anjaana Anjaani.

I am wary of scripts that introduce themselves as an unlikely romance between so and so.

Most Hindi films, specifically love stories, are better off being just what they are instead of brandishing itself as a stupendous dramatic achievement, often as an aftereffect of viewing an absorbing foreign language movie (off late, sitcoms too).

Not to say that Anjaana Anjaani is the product of 'So good, I am going to remake it' but merely that this too promotes itself as 'that something else' when it's pretty much 'that' and 'that alone'.

So like director Siddharth Anand's previous eye-candies -- Salaam Namaste (Nine Months), Ta Ra Rum Pum (Cinderella Man) and Bachna Ae Haseeno (Broken Flowers) which sponged plot points and references off Hollywood flicks -- Anjaana Anjaani nibbles a bite or two from the likes of La Fille Sur Le Pont and The Bucket List. Only this time there's not enough crustiness in its humour and narrative to keep one hooked.
Set in December-time New York City, against the backdrop of USA's economic meltdown, the first few minutes quickly and plainly depict how Ranbir Kapoor's Akash, a stock trader, has hit bankruptcy. He decides to take his life by jumping off a bridge, which also happens to be the setting of his meeting with a vodka-guzzling Kiara ( Priyanka Chopra), also there to engage in similar activity.

It's silly how Anand doesn't reveal Kiara's reasons to commit suicide almost immediately; unnecessarily building it up into something he has no intention of delivering. As suspected, it turns out to be something as predictable as a broken heart, which is eventually played out in an unremarkable flashback featuring a spaced out Zayed Khan. Oh forgive me for not considering this worthy enough of a spoiler.
For the next 25 minutes, Anjaana Anjaani transforms into a self-volunteered Wacko's Guide to Ten Ways to Kill Yourself. The duo tries everything from jumping off a bridge, car accident to asphyxiation and gas explosion but nothing works. After several failed attempts, they resolve to live it up for the next few weeks leading to New Year's Eve before doing the needful.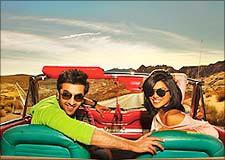 It is one thing to be edgy and another to be daft and have attitude about it. I mean how does one relate with such cowardly protagonists and their wobbly, contradictory motives?

On one hand, they're supposed to be feeling low enough to die. On the other, they are intent on celebrating it like there's no tomorrow. Also, for two broke, unemployed aimless youngsters, they sure get around -- sailing in the Atlantic, endless clubbing, driving to Las Vegas, full-on partying and what not!
Amidst these glamorous adventures, including two droll potty-themed sequences, the duo begins to get emotionally cozy as well. Just when you think there's some potential in this liaison, Kiara, for all her phoren-bred sassiness and quirk, decides she's just another Bollywood heroine after all with her demure values and sugar-coated double standards.
Truth be told, Anjaana Anjaani is embellished with contradictions. In one ridiculous scene, Kiara tells Akash how he's a perpetual escapist. Strange, considering escapism is the heartbeat of this gloss floss.
Suicide is a serious subject -- dark and deplorable. It's not in good taste to tackle it like feel-good fast food by employing the consequences of failure and rejection as means of slap-stick or dramatise it like a stylish act of rebellion.
What make this fluff worth its while are Ravi K Chandran's splendidly-lit frames, Vishal-Shekhar's awesome soundtrack and Ranbir Kapoor's knack to keep it real. He's a fine mix of chilled out and endearing even when everything around him makes you scream 'whatever.'

Too bad he can't help his rather buddy-buddy chemistry with Priyanka Chopra, which fails to mature into something sexy despite all the skin show and lip-lock sessions. As for the fellow Anjaani, Chopra fluctuates between exaggerated and plucky.
Frankly, why don't we improvise on the usual before taking on the genre of unusual love stories, what say?

Rediff Rating: