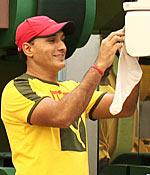 On the very first day of going on air, Bigg Boss saw its first elimination.
Contestant Bunty chor alia Devinder Singh was thrown out of show for not following the Bigg Boss rules and behaving violently with the housemates.

Sources say that he tampered with a camera and mike -- he covered the camera with a pair of socks and used foul language against Bigg Boss.
He was summoned to the confession room thrice by Bigg Boss but refused to go.
Finally, he was asked to leave.