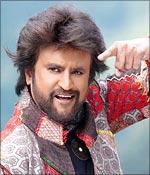 Rajnikanth's star power was there for all to see when his new film Endhiran smashed records and became a huge blockbuster.

But his fans have known for a while that Rajni is legend.

And so some of them have personalised a whole range of Chuck Norris 'facts' to him. Take a look at some of them:

Rajinikanth has counted to infinity, twice.

When Rajinikanth does push-ups, he isn't lifting himself up. He is pushing the earth down.

Rajinikanth can slam a revolving door.
Rajinikanth has already been to Mars, that's why there are no signs of life there.
Rajinikanth knows Victoria's secret.
Rajinikanth leaves messages before the beep.
Which are the Rajnikanth facts that you have loved? Send them in.
These are, of course, not to offend the Superstar but to prove that he truly is legend.