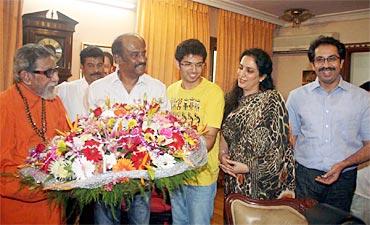 Superstar Rajnikanth, who met Bal Thackeray on his trip to Mumbai, said that the Shiv Sena chief is 'like God' to him.

The 60-year-old actor sought Thackeray's blessings and said: "He is like God to me."

His latest Tamil film Endhiran (Robot in Hindi), where he is paired opposite Aishwarya Rai Bachchan, is a box office hit.

Sources said the meeting between Rajnikanth and Bal Thackeray at the latter's home, Matoshree, lasted for nearly 40 minutes.

"The Sena chief enquired about the superstar's latest movie and wanted to know the technological details of what went into its making. He also asked Rajnikanth about the box office reports," sources said.

Sena Executive President Uddhav Thackeray presented the actor with Maharashtra Desha, his pictorial book on important landmarks in the state.

The Sena chief wanted to know Rajnikanth's 'fitness' mantra and asked how old he was. "Rajnikanth said he was 60 years old and told the Sena chief that he too looked fit and healthy. To which Thackeray said he was 85," sources said.

The superstar, who was born Shivajirao Gaekwad into a humble Maharashtrian family, said he always wanted to meet Thackeray when in Mumbai. He also expressed a desire to work in Marathi films.
"Balasaheb told the actor that he was most welcome at Matoshree," sources added.
According to sources, the conversation was mostly in English and little Marathi.
Image: Bal Thackeray and Rajnikanth pose with Uddhav Thackeray (extreme right), his wife Rashmi and son Aditya. Photograph: Sahil Salvi