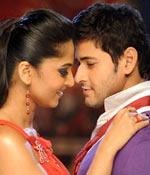 Radhika Rajamani reviews the Telugu film Mahesh Khaleja.

Mahesh Babu returns to celluloid after a three year gap in Mahesh Khaleja with a Trivikram film.

The duo of Mahesh-Trivikram delivers a product that is watchable, entertaining with good humour, couple of well-orchestrated action sequences and songs and with a bit to take home as well. It's Mahesh's show all the way, much to the delight of his fans.

Trivikram crafted a film with Mahesh's image in mind and has projected the actor as a selfless hero with 'divine' abilities. He also touched upon a contemporary issue but it got submerged in the film.

Trivikram's script writing abilities are well known. He takes the premise of a person who is thrown into circumstances and then fights for a cause. In the process of telling this story, the director uses the staple ingredients.

The film starts off in the arid landscape of Rajasthan followed by funeral pyres in a village. A 'kapalika' with divine abilities in the village (Rao Ramesh) is worried that the villagers are dying. He asks Siddha (Shafi) to go and fetch the person who would help the village. He gives a sketch of the person. Siddha sets out on this journey. He runs into Seeta Rama Raju (Raju for short -- Mahesh Babu) who fits the description and requirements of the prophecy provided by the 'kapalika'.

Raju incidentally is in Rajasthan, as we know later to search for someone's family. Efforts are made to make Mahesh's introduction scene dramatic with quite a bit of action and special effects which, however, is not so.

Raju, a cabbie  is the grandson of a teacher. Subbalakshmi (Anushka) leads him to the village where he is proclaimed as a divine entity. Raju refuses to acknowledge these godly powers but the villagers want him to do so. And this journey also leads him to the antagonist GK (Prakash Raj).

The first half is entertaining and breezy without much meat. The actual story begins in the second half which is loaded with everything -- content, emotion, action, good humour and some punchy dialogues.

The director takes up the issue of industrialists manipulating things to their advantage resulting in adverse impact on the people. But this issue seemed to be trivialised to some extent. Also, Trivikram's sense of geography seemed confused while dealing with the villages in Rajasthan and Andhra Pradesh.

Mahesh is the soul of the movie. A fitter, younger looking  Mahesh impresses in this new avatar. Be it his dialogue delivery, his action, his dances or emotions, he is effortless.
Anushka doesn't have too much of a role except to enhance the glamour quotient with her dressing. She revs up with enough oomph. But those who have seen Anushka in good roles may be a tad disappointed. The chemistry between Mahesh and Anushka is much wanting.

Shafi and Rao Ramesh are impressive in their portrayals. Rao Ramesh seems to have carried forward from the Magadheera character in a way. Prakash Raj does not play the menacing villain but rather a suave one. Comedians Brahmanandam, Sunil, Raghubabu and Ali are okay. Subbaraju in yet another baddie does well.
Some of Manisharmaa's songs sound good especially the Sada siva sanyasi and the Krishna song.

Yash Bhatt's camera work is captivating particularly the sequences shot in Rajasthan. Anand Sai's art is impressive as well. Sreekar Prasad's editing is okay though he could have ensured some lesser moments of tedium. Technically, Mahesh Khaleja is slick.
Mahesh Khaleja is Mahesh's all the way but we cannot say he has come back with a big bang after three years.
Rediff Rating: