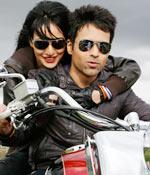 Patcy N reviews Crook: It's Good To Be Bad.

After a string of movies together (three of which did well), cousins Mohit Suri and Emraan Hashmi return with Crook: It's Good to Be Bad. 

Crook is a story of Jai Dixit aka Suraj Bhardwaj (Emraan), who leaves India because of his father's criminal record, and hopes to start a good life in Melbourne, Australia. Ironically, he uses a fake passport and a fake identity to do so.
At the airport, he meets Suhani (Neha Sharma) and instantly falls in love with her. To earn a living, he works as a taxi driver for her brother Samarth's (Arjan Bajwa) cab rental agency.

Samarth hates Australians as he blames them for the death of his younger sister (Smilie Suri). Suhani, on the other hand, tries to bring Indians and Australians together through her radio show.

Soon after Emraan reaches Australia, racial conflicts break out resulting on fatal casualties on both sides. Samarth gets involved in the conflict, which makes him take up arms openly against the Australians.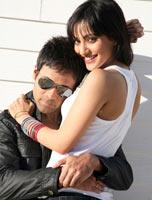 Though director Mohit Suri has picked a noble topic, the treatment leaves a lot to be desired. He clearly hasn't done much research on the topic and the result is a very childlish film.
Emraan, who last impressed us in Once Upon A Time in Mumbaai, fails terribly here. But you can't really blame him. It's the script that's weak.

Newcomer Neha Sharma should have chosen anything but this film to make her Bollywood debut as the role and the heavy topic calls for a more experienced actor. She looks good, though.

Arjan's character is full of flaws so you can neither like him nor hate him. He tries to do an Arbaaz Khan (Pyaar Kiya Toh Darna Kya) as the no-nonsense over-protective brother. But unlike Arbaaz, he fails.
Gulshan Grover, playing Emraan's uncle and police officer, has nothing much to do. Ditto for Kavin Dave and Mashoor Amrohi.

The film's music is okay especially the songs Mere Bina and Challa Babbu Mann.
Overall, Crook fails because of weak script and story line.

Rediff Rating: