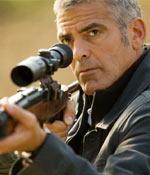 Elvis D'Silva reviews the Hollywood movie, The American.

His name is Jack, and he can be pretty social for a solitary man. He frequents a prostitute, befriends a priest and generally passes his time exercising and driving long distances through the Italian countryside to make phone calls. Does this sound like the type of man you might relish meeting? Be warned: Jack (played in a quiet cool way by George Clooney) is an assassin.

Under the stewardship of second-time feature film director Anton Corbijn The American, adapted from the novel A Very Private Gentleman by Martin Booth, is a very stylish exercise in filmmaking.

Telling the tale of an assassin on his final job, this movie has all the calm of a Zen master -- a Zen master who happens to possess intimidating fighting, weapons-fashioning and killing skills.

In the little town of Castel del Monte however, he manages to make a friend in Father Benedetto (Paolo Bonacelli) and also finds a woman who falls for him (Violante Placido). These are occurrences which would make most men happy. Unfortunately things are not that simple for Jack.

He has to remain constantly alert to the possibility that someone from his past may return to hunt him down. He cannot really reveal too much about his true nature to the people he is getting close to. And he cannot be certain who his friends really are.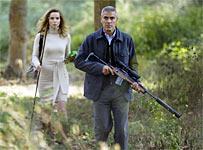 In The American quiet moments are often shattered by sudden bursts of graphic violence. Graphic because the violence causes serious bloodshed but also graphic because the meticulously composed frames of this movie are stained so dramatically by the cine-blood that it offers an abstract, artistic assessment of the after-effects of violence.

The scenery and the locations are as much a part of the story as the actions that Jack takes when facing the prospect of life on the run after a previous assignment ends messily. Beautifully shot on locations in Sweden and Italy by Martin Ruhe, this film rewards the patient viewer with a rich experience of the kind that cinemagoers have mostly forgotten.

The American is another stylish effort by the effortlessly cool George Clooney who is also one of the producers on this movie. Hollywood doesn't make enough movies as stylish as this one anymore. For that reason alone I'd recommend watching it.
Rediff Rating: