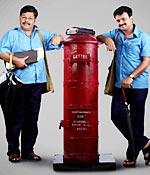 Paresh C Palicha reviews the Malayalam film Oridathoru Postman.

Oridathuoru Postmam, directed by Shaji Azeez tries to explore the father-son relationship in a humorous way. Scripted by K Gireesh Kumar, it has traces of director Sibi Malayil's Ishtam, but eventually goes off on a tangent.

Gangadharan (Innocent) is a postman in a rural area. He is lazy, irresponsible and a football fanatic, who sponsors the local club. His son Raghunandan (Kunchako Boban) is an educated unemployed youth dreaming of becoming a gazetted officer. He does odd jobs like running tutorials for Public Service Commission aspirants, selling mutual fund schemes and even doing his father's job.

There is a sub-plot regarding lottery addiction among the people and the lottery mafia. Salim Kumar, as the lottery addict Chandrappan lends humour to the problem.

There is a second sub-plot about how the state has become a breeding ground for terrorists, how youngsters are recruited and innocent people are stamped as terrorists because of their religion. The story of Yaseen Mubarak (Sarath Kumar), a wildlife photographer and environmentalist who gets wrongly stamped as a terrorist, takes up most of the second half. Despite being topical, the sub-plot does not make this film interesting.

The twists and diversions bring some excitement initially, but it does not last.

Kunchako Boban tries to bring out the pathos of a young man weighed down by the responsibilities of his small world with undercurrents of humour, but the effort seems to be too much for him.

Innocent glides through his role as the postman and though we have seen him in such roles umpteen times, he still raises a few chuckles.

Meera Nandan as the stoic leading lady providing moral support to her man passes muster.

Oridathuoru Postmam complicates things when simplicity would have done wonders for it.
Rediff Rating: