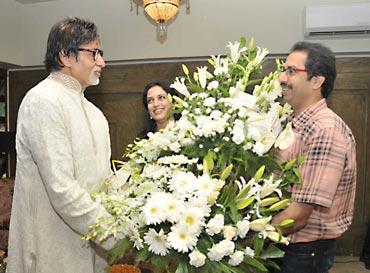 Fans of Bollywood superstar Amitabh Bachchan [
Images
] celebrated his 68th birthday across India [
Images
] on Monday by offering prayers for his good health and happiness.
People gathered outside the gate of the Bachchan residence in Mumbai [
Images
], holding placards and posters, and were waiting for a glimpse of the actor.
"I will be glad if I will meet him. I am waiting for him once I will meet him I will feel that I am like king of the world and I will take his autograph," said Harsh Kumar, a fan.
Meanwhile, people gathered on the banks of the Sangam (the confluence Rivers Ganga, Yamuna and Saraswati), in Allahabad, performing religious rituals and chanting hymns.
Fans also sculpted the face of the legendary actor on the riverbank to mark his 68th birthday.
"On this occasion, we have made a sand sculpture on the riverbank of Ganga and through this sculpture we wish him a very happy birthday and pray for his long life," said Dinesh Shrivastav, a local resident.
Fans in Kolkata [
Images
] also performed fire rituals to wish the star on his birthday.
Image: Shiv Sena [ Images ] working president Uddhav Thackeray [ Images ] and wife Rashmi wished Amitabh Bachchan on his birthday at the actor's Juhu [ Images ] residence in Mumbai.
Photograph: Sahil Salvi