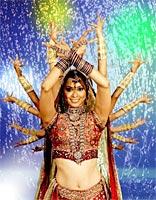 "You can never get tired of performing in this show," says Carol Furtado, who has played the lead in Merchants of Bollywood in more than 30 countries, including Romania, the Gulf countries, Singapore and the United Kingdom in the last four years.

"We are performing in different cities, some times in a country like China where most of our audience does not know English. We have very different audiences in each city," she adds. "Besides, I am mad about dancing. And watching the audiences moved by the story and awed by the costumes, music and dance is invigorating. This is true for everyone in the cast."

Furtado, who plays a Bollywood choreographer clashing with her traditional choreographer grandfather, has done more than 800 shows, but "at each performance, I am excited as if it were the first performance," she says.

Now, she has started her North American journey. After performances in Chicago, Detroit and smaller cities in the last two weeks, she is performing in the New York tri-state area and Atlantic City. Her performance in Newark, New Jersey, was expected to be attended by hundreds of people from New York and surrounding cities.

"My philosophy is to give my best even if there are five people in the auditorium, and I feel the other cast members have similar attitude," Furtado says. "The five people in the theater should go home thinking that their money was well spent... We are hoping to get a good mix of audiences. In the UK, we had South Asians and British viewers. In Chicago, there was a mix of desis and Americans. In Detroit, we had a large number of African Americans. It was a great mix, there were so many ethnicities."

Furtado, who has a sociology degree from Mumbai's St Xavier's College, has been dancing through her college days. "I never had formal training," she says. "I am not like some of the young artists in India or America who have been learning from their childhood."

During her college years and after her graduation, she also designed costumes for stage shows in Mumbai. "A friend drew my attention to the casting of Merchants of Bollywood," she says. "I wondered what I would do in a Bollywood-themed production. I could not imagine, for that matter, acting in any show."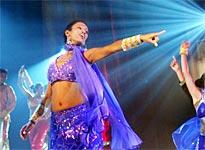 But her friend Shruti sent her picture to the producer, and soon Furtado got a call from Mark Brady. "I went thinking that I would make a courtesy call to save my friend's face," Furtado said. "The casting interviews were at (JW) Marriot (in Mumbai). I thought it would be a nice place to have coffee. I read the script as a matter of courtesy. When I was offered the part, I wanted to murder everyone around me."

Yet she could not bring herself to say no. Her contract was for three months. "I can't believe I am in the fourth year in this show," she says.

She grew up emotionally and professionally during the world tour. "I learned to laugh at myself," she adds. "Initially, I was concerned about my acting capability. I never had training in college or beyond in acting. But I was able to learn fast from my mistakes."

The show, she believes, "transcends generations and nationalities. It is a universal story of love, estrangement and reconciliation. It is spectacular, but it is also a life-enhancing story. And we all perform from our hearts."

And she is far from done with the production. After performing in more than a dozen venues through October, and then 10 performances in Toronto, she is headed home to Mumbai for a few months. At the end of December, she will be ready to perform in half a dozen countries in Europe, including France and Germany, and then to some places she has never been before, including Tahiti.
"How could I ever thank my friend Shruti?" she concludes.