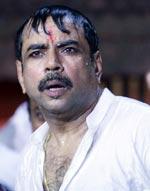 Paresh Rawal has good reasons to admire his work for director Priyadarshan. Over the last 12 years, they have worked together in more a dozen films including Hera Pheri, Malamaal Weekly and Hulchul. Some of them have gone on to become the biggest hits of their careers.

Rawal feels that his latest collaboration with Priyadarshan, Aakrosh offered him special challenge.

"This is one of the more significant films Priyadarshan has directed," Rawal said. "It is a film focusing on a crying social issue. And like my co-artists, I felt it is not an ordinary film."

The film deals with honour killings, and Rawal plays a policeman. "Instead of doing my job, I am on the side of the corrupt and evil people," he says.
Priyadarshan, he says, is one of the few directors in India who have tackled many genres effortlessly.
Rawal, who was in America for nearly two months performing the seriously humourous play Krishan vs Kanaiya, says that like the play, the film is about humanity and how it is robbed from people at large by the vested interests.
"There are times you take up a film or a play because of its humanity," he explains.
Aakrosh looks at how powerful people manipulate and abuse the system, he claims.
"Honour killing is a dishonour to any society," he asserts. "How can the people of upper castes go around killing the lower caste people in the name of tradition? This is barbaric. Such acts should be dealt with urgency and the guilty should be severely punished."
But he says the government officials are afraid of taking action because their own bosses will reprimand them for offending 'the upper castes.'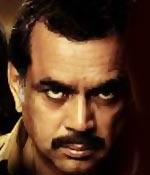 "It is the politics of vote banks," he says with a sigh. Aakrosh looks at this issue with courage and deep insights, he adds.
Meanwhile, his play Krishan vs Kanaiya, which has been staged across 40 cities in America, sees him play a small businessman who sues God. The insurance company had refused to compensate him, pointing out to a clause in the policy (in small letters) that denied compensation if devastation was caused by an 'Act of God.'
'My character in the play comes to know at the end what God really is but the conversion is not into the kind of religion most people practice," he says. "Religion, my character says, either makes people weak or terrorists."
That line was not in the original script. It came to him suddenly in the middle of the tour.
While the tone of the play, written by 27-year-old Bhavesh Mandalia is comical, it hits its targets -- godmen who thrive on fears and anxieties of the devotees -- mercilessly. There is never a recession for religious institutions, Rawal's character declares to a thunderous applause.
Elsewhere, he says that the moment a baby is born, astrologers and godmen begin declaring what is wrong with its destiny. And the parents rush to arrange for poojas and prayers. The poor child hasn't even started breathing, he says ruefully.
The 51-year-old actor was so overwhelmed by the reception to the show that he has promised to return early next year. "I am keen on taking it to India," he said. Though the play was written originally in Gujarati, Rawal will perform a Hindi version.
The play had 51 shows in 53 days. "It is a record for any live Indian show in America and Canada," says Chandu Shah, who coordinated the tour with Chicago-based Bhavna Modi of Manpasand company, as the national promoter.