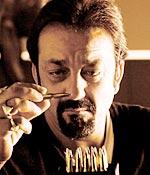 Patcy N reviews Knock Out.
After debuting with a good film like
16 December
, director Mani Shankar could not create the same impact with the films that followed --
Rudraksh, Tango Charlie
and
Mukhbir.
They were, mildly put, disasters.
Sadly, his new film
Knock Out
also fails to impress. The primary reason is that it is a copy of the Colin Farrell film
Phone Booth,
which was a terrific thriller. And secondly, the film's climax was not only unrealistic but also comical!
Knock Out
is a story of an investment banker Tony Khosla aka Bachu (Irrfan Khan), a womanizer, who also cleans up after corrupt politicians. One day, he gets a phone call from a phone booth from an unknown caller, Veer Vijay Singh (Sanjay Dutt), who keeps him hostage.
Veer is a patriot, who is upset with Bachu because of the very reasons mentioned above.
So Veer takes it upon himself to see to it that Bachu confesses his sins in public. And then sing and dance.
Meanwhile, television reporter Nidhi Srivastava (Kangna Ranaut) covers the event live, and also helps out police officer Vikram (Sushant Singh), who is on duty on the crime scene.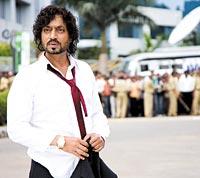 Knock Out is not only a badly made film but it highlights the fact that there is a serious dearth of movie writers in India. While adapting the screen to the Indian palate, Mani Shankar has only made a mockery of the original script.
The climax gets even worse. Irrfan asks revenue officers for their bank account numbers so that he can transfer money from corrupt politicians' Swiss bank accounts to the revenue department. Can this even be done?
Veer claims that the amount of Rs 70,000 crore belongs to India, and should be here, not in the Swiss banks. Is this Mani Shankar's way of telling Indians how to get back their money? By holding someone hostage, and killing men on the streets?
Mani Shankar must have given many interviews to promote his film. But it seems he was so caught up in talking about his film that he did not notice the outfits journalists wear. Journalists, especially crime reporters, do not wear tube tops and stilettos while on the field.
Irrfan Khan gives a brilliant performance. He's funny and interesting, whether when he is dancing to Zaara Zaara Touch Me from Race or is he's singing the patriotic song Yeh Desh Hai Veer Jawaano Ka from Naya Daur.
Sanjay Dutt does an okay job but it's a funny sight watching a 50-year-old man, who has put on so much weight, doing somersaults.
Kangna screeches her way through the 'breaking news.' She really needs her voice modulation classes.
It's also strange to see that a crime reporter understands a crime scene better than the police officer on duty! Sushant. Sushant is very impressive in his role but his role is terribly half-baked and even comical.
Director-turned-actor Apoorva Lakhia doesn't have much to do.
Over all, Knock Out is just not worth a trip to the theatre.
Rediff Ratings: