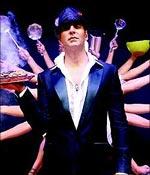 Sukanya Verma reviews MasterChef India.

There's something tantalising about food. Exciting presentation, secret ingredients, lingering aroma -- everything about it screams of excitement and promise.

Combine this aspect with the dedication of a culinary-delight whipping enthusiast and a bunch of nitpicking, hard-to-please foodie experts. Top it up with a celebrity host and his discerning palate and you've got a thoroughly entertaining reality-television cooking competition.

Given the popularity of shows like Top Chef, Hell's Kitchen and MasterChef, one expected MasterChef India to continue in the same vein.

The desi-version of this Akshay Kumar-led soppy feast, however, is too self-conscious and shabby to impress. Food is all about tempting the senses into easy submission with its delectable temperament and gorgeous appearance. And so it's only fair to expect the surroundings to look just as appetising. The red and white paneled kitchen with a garish backdrop far from succeeds in achieving the same.

Its first two episodes involved the Singh is Kinng star, clad in a grey suit and floral shirt, auditioning the final participants along with its bland fellow judges, Goa Marriott's Ajay Chopra and Leela Kempinski's (Gurgaon) Kunal Kapoor.

Following a bunch of garrulous participants discussing their passion for cooking and the high-pitched support of their families, the next two hours are monotonously about hand-picking 100 contestants after subsequent trials and testing. Winner of MasterChef India will be entitled to a whopping    1 crore, author a recipe book and host a cooking show.

Frankly, the proceedings would carry much more charm if the auditioning was played out in a brief reel and they'd get down to business at the onset.

What entails the otherwise spontaneous, approachable and confident Akki behaving like a self-plugging Bollywood superstar mouthing corny ones like, 'Meri kamiyabi ki buniyad cooking hai,' remembering his days as a stall-station chef in Bangkok, Thailand or 'Khana sirf khana nahi, jeena aur marna ban jayega.' Even his efforts to look stern seem strained and affected.

All the same, it's better to see him in no-nonsense mode instead of obliging star-struck fans (read fawning female admirers) in the garb of wannabe MasterChefs.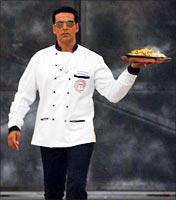 Sandwiched between exhibited platters of finger-licking Benarasi kemami sevai and soggy, smelly shrimps, the show observes unabashed flattery, fellow-Punjabi camaraderie/connection telling us just how seriously this show needs to be taken.

Tell him a sob story and the Khiladi will influence a judge's already made-up-mind. Mollycoddle him with 'ma di mamta' and he'll shower you with hugs as well as the coveted apron. It is plain silly and emotional kitschy how almost every contestant cries on this show. For crying out loud, this is MasterChef not Oprah.

Hopefully, the forthcoming episodes will treat us with some crisply-edited action, nail-biting drama, hard-boiled professionalism and innovative culinary expedition. As of now, this shoddily-packaged cooking contest is shockingly mediocre.

Rediff Rating: