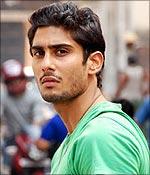 Reader Maahin Akhlaque reviews Dhobi Ghat.

My first and main thought throughout watching Dhobi Ghat was how much it reminded me of Slumdog Millionaire. I don't think it was what they were attempting at all, but the Mumbai it showed was similar, and yet much more intimate. Kiran Rao's deep knowledge and love of the city is very evident in this sort of love-portrait of Mumbai and its people.

The decision to use (almost all) unknown actors was good, particularly in the roles of Shai, played by Monica Dogra, and Yasmin (Kriti Malhotra). I think the usefulness of using new faces is something Indian filmmakers are started to take advantage more recently than other film industries around the world, rather than before having them just for a "fresh" look or launching children of stars.

Its a lot easier to get engrossed into the life of someone you know nothing about, than a familiar face doing something unfamiliar. The only well known face is Aamir Khan (director Kiran Rao's husband) who plays Arun, the painter. Some people may recognise Prateik (Babbar), who plays Munna, as Genelia D'Souza's brother in Jaane Tu Ya Jaane Na. Its good to see him get a major role, and not starting off as most bollywood actors typically do in popcorn/masala films.

Dhobi Ghat is a little peek  at life in the different  social classes in Mumbai:  Arun the painter, and his  upper class world; Shai the NRI, on her sabbatical;  Munna, the 'dhobi' (laundry guy) and rat killer; and Yasmin, the middle class housewife who moved to Mumbai when she got married.

Yasmin's story is actually set before the movie starts, and is only shown through a series of home videos she makes as letters to her brother, which Arun discovers in his new apartment. The center of it all is the inter-class relationships, mainly between Shai and Munna, but also the connection that Arun begins to feel with Yasmin as he watches her videos. Aamir Khan does very well in conveying the evolution of this unusual one way relationship he builds. He is, as usual, at his best in this role.

Shoot on 16mm, which is rare for an Indian film, it looks good. A lot of it is shot on location in various parts of the city, and for someone who doesn't know Mumbai at all, it was interesting to see things that are not usually show in movies.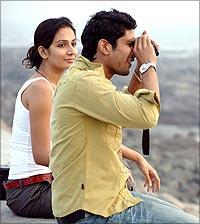 The score by Oscar-winning Argentine composer, Gustavo Santaolalla, is wonderful. He used a lot of live sounds from the locations (Kiran said this herself the the Q&A that followed the film), and with what he composed, the music really brings the stories of these characters alive.

Amongst all the new age Indian directors that had released films recently, Kiran Rao definitely has an edge over them with Dhobi Ghat, which really is quite refreshing.

However, I worry that its too different for an Indian audience. I think it can to extremely well internationally and at festivals with the right promotion, but it doesn't have much, with the exception of Aamir Khan, that appeals to the masses in India.

Especially with a lot of English dialogue. Which is a shame, because its a wonderful film, and Mumbaites are the ones who can truly appreciate it the most.