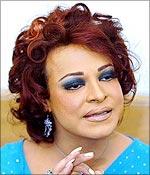 A secret deal seems to have struck between the Shiv Sena and officials of the Colors Television Network -- the producers of the Bigg Boss reality show -- to ease out the two Pakistani participants in the show, sources in the Shiv Sena told rediff.com.

Anil Parab, division head of Shiv Sena and a former legislator who led the protests, says, "Our protest is against the channel on the inclusion of Pakistani artists. We had voiced our displeasure earlier and demanded to evict them. The channel, however, continued with them with police protection.

"Later, I appealed to some cable operators, who understood our views and stopped airing the channel in different parts of Mumbai," he continues.
The Shiv Sena controls many cable unions in the metropolis.

According to him, the channel officials assured the Shiv Sena representatives that the two Pakistani artists would be eased out soon.

"Later the channel sent us an apology letter and promised to ease out the Pakistani artists. Our agitation will continue till both the artists are evicted. One who offers to have a dialogue is considered to be weak. When they don't let our artists perform in their country, why should we welcome theirs? Even a legend like Lata Mangeshkar isn't allowed in that country. We won't rest until the two Pakistani nationals go back."
Now with Begum Ali nominated for eviction along with Sweta Tiwari this week, it looks like the Shiv Sena may finally get their wish.