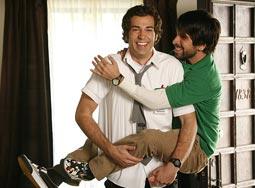 As the controversy over the fish-out-of water comedy Outsourced continues, with even the name of the Indian business giant Tatas dragged into it, NBC has confirmed it has given a full-season green light to the show that was aired first three weeks ago.

The comedy has upset quite a few opponents of outsourcing jobs from America to India, as well as Indians who think it portrays too many cliches about its Indian characters. But some Indians also feel that its Indian characters are no different than their American counterparts in popular TV shows.

NBC also approved the continuation two other shows, Entertainment Weekly reported.

'We are pleased with the quality of The Event, Law & Order: Los Angeles and Outsourced, and feel they are an important part of helping to re-build our schedule and our studio pipeline,' the publication quoted NBC president Angela Bromstad as saying. 'We believe in these new series and the creative auspices behind them.'

Inspired by a critically acclaimed but little seen film of the same name, Outsourced follows the misadventures and life lessons learned by an American executive whose entire department is outsourced to India. Worse for him, he is sent to supervise and train the new department.

The show received mediocre reviews, though The New York Times welcomed it.
Don Tennant who had written about the show IT Business Edge defending the show continues to be criticised by readers.


'The fact that a show like this would surface at all means the insurgency has the globalists and India Inc on the run,' wrote a reader. 'Americans are waking up to India, Inc./globalisation fraud and the mainstream media is in a panic. You can bet someone from India had a hand in its creation. No doubt foreign lobbying group NASSCOM wanted to get further control of our media and called up the execs @ NBC and said "Hey, how about a show where we make fun of American workers and hype India. WE'LL PAY YOU". That's the way the NASSCOMs and Tatas of the world operate. '
Tennant revisited the controversy recently: 'All of the hand-wringing over this show about offshore outsourcing is troubling,' he wrote. 'It bespeaks the emergence of a communal lack of self-confidence, resiliency and perseverance that have defined the character of this country for more than two centuries. We've allowed a natural economic shift to beat us down, when far worse circumstances failed to intimidate our forebears.
'I have talked to over two dozen Indians across America who have found the show mildly amusing. They were not offended at the holy cow jokes or the portrayal of a scheming manager (Rizwan Manji) in the Mumbai office of the American company
"We should learn to laugh at ourselves, as long as it is not racist," said a fomer IT student at NJIT. "We cannot be thin skinned."
Some complained that the show was too slow. "There should be more sparkle in it," said a film-maker who found the film version "terrific."
Many others said they liked some of the characters in the show. "It reminds me of my early working days in Delhi," said one. "Like many of my friends, I too was longing to meet with women. I am enjoying the show."
But Mallika Rao, writing in Entertainment Weekly has strong reservations about the show.
She watched the pilot , without being seduced by the show, 'one-dimensional quirks play out: the Indian men reduced to fetishising sexual intimacy ("I like redheads. And blondes…and dark-haired women," declared Sacha Dewan's desperate Manmeet, who lives, predictably, with his parents); the sari-clad Madhuri (Anisha Nagarajan) who can't or won't speak above a whisper due to a ruinous Eastern-style shyness; Todd (Ben Rappaport), who is American, and therefore looser in all things -- love, work, family, etc.'
But millions who have watched the show have sent a strong positive message to NBC, downing the voices of naysayers like Rao and the opponents of the outsourcing phenomenon.