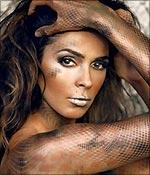 Kittu Singh reviews Hisss.

Indian mythology is an endless bank of fascinating tales. Director Jennifer Lynch uses one of the most popular Indian myths as the storyline for her film, Hisss.
It is the legend of the Nagamani, a jewel that exists in the body of the Nagin. This jewel is said to give immortality to anyone who possesses it.

George, a man dying of brain cancer, is on an expedition to find this Nagamani. Along with local Indian goons and villagers, he captures a male cobra to tempt the Nagin into giving up the Nagamani as ransom to free her beloved.

The legend comes alive as the female cobra takes mortal shape (Mallika Sherawat) to seek revenge and rescue her partner.

Mallika dares and bares all as she plays the Iccha Dhaari Nagin (shape shifting snake) traversing through most of the film in her birthday suit!

Irrfan plays a local cop, Vikram Gupta. He lives with his wife (Divya Dutta) and delusional mother-in-law, Laxmibai. Laxmibai adds some entertainment to the film as her character in the film is both fresh and well portrayed.
Vikram Gupta is called in to investigate a string of murders in the city soon after Mallika's appearance. The murders are bizarre and unlike any that either he or his forensic team have seen before. Believers in the legend keep screaming that the Iccha dhaari nagin will kill all sinners that she comes across till she finds her mate.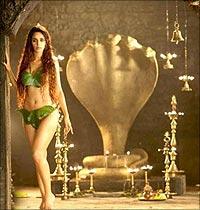 The film is handled very tackily and looks extremely amateurish. Even the special effects are not of top quality and fail to impress.
The support cast is weak and lack direction. Irrfan keeps one engrossed without much content at his disposal. His chemistry with Divya Dutta is convincing.
Mallika remains the only visual element in the film.
The film is a huge disappointment as it fails to bring alive an awesome legend.
Rediff Rating: