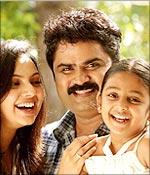 Paresh C Palicha reviews the Malayalam film Cocktail.

Malayalam film Cocktail, directed by newcomer Arun Kumar, is an inspired version of the Canadian film Butterfly on a Wheel, starring Pierce Brosnan.

Cocktail tells the story of a high flying corporate wheeler-dealer Ravi Abraham (Anoop Menon), who works in a construction firm. He is ambitious and will go to any extent to score some brownie points with his bosses. He is also an expert in profiting by doing business outside the purview of his official capacity. He has also neglected his wife Parvathy (Samvrutha Sunil) and a young daughter in the process.

The twist comes when the husband and wife go out together -- the wife to be dropped off at a kitty party and the husband for a private appointment with his boss. On they way, they give a lift to a stranger, Venky (Jayasurya), whose car seems to have broken down. Venky hijacks their car with the ayah looking after their daughter as his accomplice. He knows every detail about the couple and claims that the next 24 hours will be hell for them.

The screenplay, credited to Menon, just focuses on these three characters and their interplay. The other characters have fleeting appearances. But, a few do stay with us like Fahadh Faasil as the cool foreign-educated boss, Kani as the streetwalker, Innocent as Venky's uncle and Mammookoya as a pawnshop owner.

Jayasurya gets the plum role as the menacing and almost deranged Venky and holds on till the very end. Samvrutha as the young wife who does not mind flaunting her sensuous side, is good. Menon is not convincing as a man with gray shades.
Arun, who has been editing Priyadarashan's films for sometime, has done a decent job. One hopes that he will not get stuck with inspired films.
Rediff Rating: