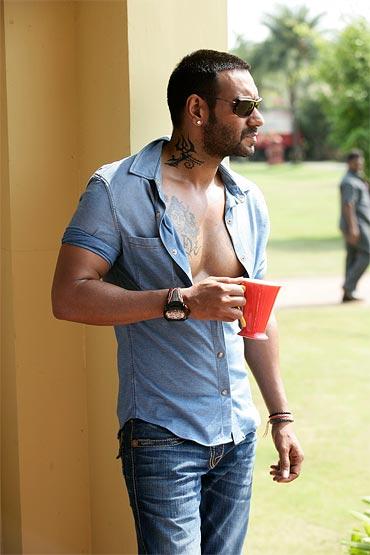 Ajay Devgn will have to shell out Rs 100 as fine for smoking at a public place during the shooting of his upcoming film Golmaal 3 in Goa in May this year.
"A fine notice will be issued to the actor today following a complaint filed by the Director of Health Services," police said.
Directorate of Health Services had filed the complaint after a non-governmental organisation National Organisation for Tobacco Eradication (NOTE) had brought the violation to its notice.
Deputy Superintendent of Police, Deu Benaulikar, said that police have acted after verifying the fact through a photograph published in a local newspaper.
Meanwhile, NOTE general secretary Shekhar Salkar expressed happiness over the police action. "Although the fine is small, the actor will realise that he should not violate the Act," he said.
"He (Ajay) is a habitual offender and the Act needs to be stringent towards stringent offenders," he said. The Omkara actor was also fined in January this year for smoking in a public place in Chandigarh.