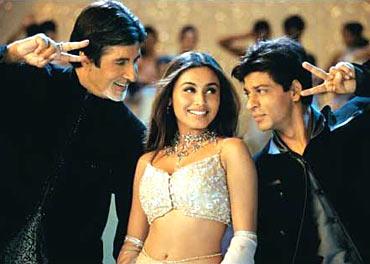 We asked readers to send us Bollywood bloopers that they have spotted.

Reader Atishay Agarwal shares with us a blooper that he spotted in the movie Kabhi Khushi Kabhie Gham.
Kabhi Khushi Kabhie Gham released in 2001. In one of the flashback scenes going back 10 years, Shah Rukh Khan returns home after his studies and Amitabh Bachchan starts planning his wedding with Rani Mukerji.
There is a party at their house in which they sing Say Shava Shava. Suddenly, Amitabh breaks into the song Aati Kya Khandala from Ghulam.
However, Ghulam only released in 1998, whereas the supposed year of that scene is 1991 according to the flashback.
Have you spotted any Bollywood bloopers recently?
Tell us about your favourite and funniest! Keep the Bollywood bloopers coming, guys!
Also Read: Aamir: Not always a perfectionist!
Kuch Kuch goof up hota hai!
What is the secret of Ajay Devgn, Kangna's youthfulness?
The glaring goof-up in 3 Idiots
When Salman broke his commitment
When Aamir went wrong!
Ash-Salman's big mistake!
When Big B, Aamir goofed up!
Aamir Khan goofed up in Jo Jeeta Wohi Sikander
Bollywood's movie bloopers