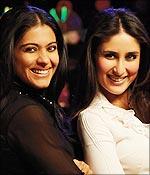 Preeti Arora reviews We Are Family.
We Are Family begins on a note of confusion. As the film progresses, the sense of confusion increases leaving the viewer disoriented. At the end of two hours, debut director Sidharth Malhotra's film -- which is intended to be a sob story -- did leave the audience in tears. Of boredom.
Arjun Rampal is divorced and his kids live with his ex-wife Kajol (Maya). He's been in a relationship with Kareena Kapoor (Shreya) for the last three years and he hopes to make it permanent.
Kareena flaunts her figure, pouts seductively both at Arjun and into the camera and reluctantly agrees to meet Arjun's kids (Aleya, Ankush and Anjali). Which leads to a general sense of mayhem and disaster! Surely, kids living in Australia would be comfortable with the notion of divorce and their father having a girlfriend. But no, these kids in true Bollywood fashion label her as the wicked witch.
There are the mandatory scenes of Kareena trying to build a connect with her to-be step-kids. But their interactions are jerky and seem foisted on the story. Kareena's character is one-dimensional -- either she's showing attitude or she's busy trying to be a doormat. But then can one blame her? Because the kids she's interacting with are far removed from normal eight-year olds or 13-year olds. Eight-year-old Anjali (really wish Karan Johar would get over Kuch Kuch Hota Hai) never speaks, she mouths dialogues about angels and fairies and magic wands.
In Stepmom (We Are Family is the official remake with permissions et al), Kareena's character played by Julia Roberts is pivotal to the story. How she succeeds in building a relationship with the kids on her own terms. It's a slow evolution. Here it's instantaneous. One minute they're spitting venom and suddenly they're worshipping the ground she walks on.
Kajol is her charming feisty self. She's back in her DDLJ avatar with minimal make up and eyebrows which meet in the centre. There is much this actress can convey with the twitch of her eyebrow or a petulant shrug. But she's made to vocalise her emotions even in her last days. She's giving her son a present and she says, "It's a love-you forever gift." Forced, contrived and in your face. No room for subtlety. Show me something more corny and mawkish than that.
One would have thought the director and scriptwriter (Venita Coelho) had enough material to build a tight script. But no they have liberally lifted sequences from other popular kiddie flicks of the last decade. Like Anjali being allergic to peanuts is straight from the The Gameplan starring Dwayne Johnson. And 13-year old Aleya has to be brought back from a party since she's sneaked out of the house without permission (Raising Helen). Well this is a film about kids so they've done their homework conscientiously.
It's not just the kids and Kareena who are confused. Arjun Rampal can't keep his hands off Kareena Kapoor initially. Once he realises his ex-wife has cancer he loses his libido. He moves back home and behaves like the true grief-stricken husband.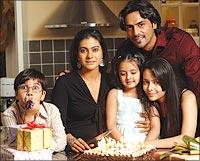 And not once does he make a single overture towards Kareena. And she doesn't mind. After all she has to be a mom. And it's safest to depict moms as asexual creatures.
Just when you think there is nothing more to be said or done there is a stage performance (a song and dance drama) enacted by the entire family to convince Kajol about how much she's going to be missed once she's finally gone. The song goes on endlessly.
If the director had given any thought to Arjun Rampal's character, it's not reflected on screen. He tries his best but it's unfair to call him a bad actor when he hasn't been given any material to work with.
We Are Family falls into the same genre of films such as Ta Ra Rum Pum or Thoda Pyaar Thoda Magic which are purportedly about kids but it's the same melodramatic mush being dished out in a new wrapper. A sensitive, real film such as Stepmom has been turned into a cliched Bollywood potbroiler.
Stepmom fans, please keep away. Don't even watch the trailer. Actually, the same advice is valid even for those who haven't seen Stepmom.
Rediff Rating: