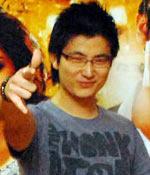 Former Indian Idol finalist Meiyang Chang, who featured in the Shahid Kapur-starrer Badmaash Company, is all set to host India's first ever horror reality show on UTV Bindass. The Chair will start from September 12 at 7 pm.
While Meiyang himself does not believe in the supernatural, he tells Rajul Hegde what made him take up the show, and the spooky experiences while shooting.
What made you accept a horror reality show?
When I got this offer, I was unenthusiastic to take it up because I don't believe in spirits. I accepted this show to travel to various haunted locations. It was also an opportunity to find answers to spiritual myths. This show will be interesting because it will answer the ghost believers as well as non-believers like me (smiles).
What is the show about?
The 13 contestants will be sent to different locations that are haunted by popular belief, and then left on their own. There will be no other human presence. The one who lasts the longest will get to sit on the chair and speak to the dead. I will be asking questions on behalf of the audience.
We try to find stories behind these haunted spots throughout the show.
We have finished shooting for three-four episodes in places like Gujarat, Patiala and Uttar Pradesh.
Any spooky experiences while shooting?
It can be a coincidence but I felt uncomfortable and experienced strange things at some places. For instance, we were checking out a palace in Santrampur, Gujarat, to know how safe it was for the contestants. I noticed something on the top floor and went alone to check it out. After I reached the top floor, I suddenly felt someone standing behind me. When I turned around, there was no one.
People, who were fine an hour ago, would suddenly fall sick.
Did that incident make you a believer?
Yes, to a certain extent. Let's see if I have a different opinion at the end of the show (smiles).
So how has your experience been so far?
I enjoyed myself. It was fun meeting people at different places.
The biggest challenge of the show is to find the right participants. We conducted medical examinations before we selected them. A psychic is present at all times to help the contestants.
What was most interesting and shocking were the contestants. They look like cool dudes when they walk in but change when they are put in a certain situation.
But there is no prize money or winner as such on this show.
Why would anyone come on a show if there's no prize money?
Good question (smiles). This show is different, as there is no acting. There are real life situations and emotions. Courageous people come on this show for thrills and the experience.
You were a dentist before, and then shifted to showbiz. How has the transition been?
I consider myself very lucky because I have never planned anything till date. I got into this profession by accident. At the moment, I am happy because it's a different experience altogether.
You are doing a film next, about the China-Tibet conflict?
I am still in talks, nothing is finalised yet. I was offered Fear Factor but I couldn't accept it because it was clashing with my schedule. I would have loved to be part of it, with Priyanka Chopra as the host. I want to do quality work on TV and films. I don't want to act in soaps.