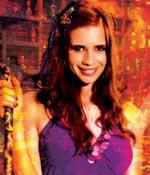 Sukanya Verma reviews The Film Emotional Atyachar
At some point in the movie, a character scrapes the insides of another guy in a bid to take out a buried bullet. But like he eventually laments, everything comes out except the bullet. It's supposed to be one of the many outwardly dark and compulsorily humourous moments of this disjointed thriller.
What the scene really does is involuntarily sum up the trouble with Akshay Shere's directorial debut, The Film Emotional Atyachar. It tries so visibly hard to be tough, murky, sassy and, most laughably, clever that it's impossible to find any redeeming aspects in its devoted wannabeism.
Mostly what makes The Film Emotional Atyachar such a nauseous fare is its complete disregard for story, coherence and dialogue writing.
Unlike Omkara or Ishqiya where profanity works like a pungent punch, Shere employs it like a cringe-inducing headline that neither makes sense nor creates any impact.
What it basically entails is a bunch of shady characters from Mumbai and Goa involved in a complex money-nabbing racket. Three small-time thugs with conflicting priorities (led by Ravi Kissen), two obnoxious cops (Vinay Pathak, Ranvir Shorey), a flashy drug peddler (Abhimanyu Singh has no presence whatsoever beyond his gaudy Ed Hardy t-shirts) and his flirtatious cabaret dancer girlfriend (Kalki Koechlin), a wooden-faced businessman (Mohit Ahlawat plays it like it is) and an ever-smiling good Samaritan (Anand Tiwari sports the same nervous grin last seen in Aisha) are caught in a chain effect of deceit depicted though to and fro flashbacks.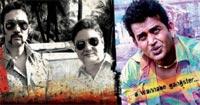 Greed dictates the actions of almost all its protagonists making them one-dimensional and boringly transparent. For a movie of this genre, the ability to take its viewer by surprise is an urgent requirement but Shere doesn't think so.
An otherwise promising premise, Emotional Atyachar is, instead, much too obsessed being morbid and unpredictable that after a while you see through it and the result is exactly what it's trying hard not to be -- bizarre and contrived.
Even the performances leave a lot to be desired. After a restrained delivery in Raavan, Ravi Kissen is back to his hamming ways. He plays a cheerfully devilish gangster like a hyper-version of Razzak Khan (like that's even possible) from one of those Govinda-Kader Khan comedies.
Then there's Kalki disappointing in tacky make-up and trashy clothes going through the standard seductress routine with abundant skin but very little spirit.
The usually reliable partnership of Vinay Pathak and Ranvir Shorey add a sense of false credibility to the going-ons with their likeable familiarity. Alas, that's all they do.
Can't blame them, really. Emotional Atyachar would probably work better as a made-for-television movie not just because its deficient of technical finesse but nothing really drives the plot beyond a bag of money. There's no context. There's no inclination. There's definitely no emotion. And we all know how much sense television is supposed to make.
The only decent thing about this Atyachar is that it wraps up in about 90 minutes.
Rediff Rating: