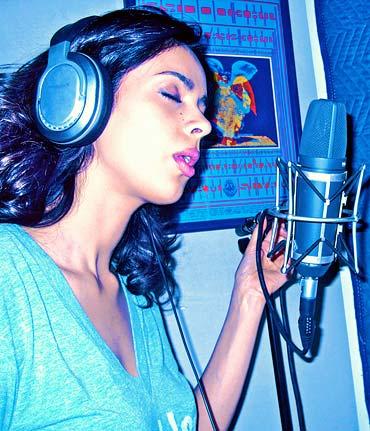 Mallika Sherawat is full of surprises.
The latest buzz is that the actress is lending her voice for the very first time for her upcoming film Hisss (watch the trailer here).
Before leaving Los Angeles for Mumbai, the actress recorded a song in a studio in Los Angeles which will be released as part of the Hisss soundtrack and promotions.
According to a source, Mallika has sung two songs. The first of the songs is composed and arranged by Julian Lennon, ex-Beatle John Lennon's son. The second track is arranged by German composer Alexander Von Bubenheim who has also provided the background score for Hisss.
Both the songs have Mallika singing in a breathy, sexy style reminiscent of famed French actress Brigitte Bardot's legendary collaborations with musician Serge Gainsbourg.
The Hisss soundtrack comprising of 5 songs and 3 dance remixes will be launched in Mumbai sometime this month.
Hisss is slated for release this October.