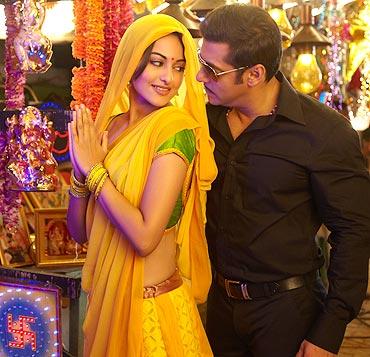 That Salman Khan has a massive, pan-India fan following became more than evident today when he landed in Hyderabad to promote his soon-to-be released film, Dabangg.
His debutant co-star, actor-MP Shatrughan Sinha's pretty daughter Sonakshi, simply got swept in the wake.
There was a near stampede as Salman's fans went berserk; in fact, Sallu bhai had to finally flex his muscles and push his fans away in order to protect Sonakshi.
His bodyguards even got in a brawl with the public, but fortunately no one was hurt.
But Sallu fans should not be surprised. This is not the first time the star's fans have gone beserk after a glimpse of the muscular Khan.
When he was in Hyderabad a few years ago to promote Veer at Prasadz Multiplex, the crowd jammed the elevator door; five people were injured in the resulting stampede.