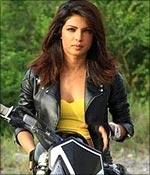 September seems to be an important month for the bold and beautiful Priyanka Chopra. Not only is her film Anjaana Anjaani releasing this month, she has also launched her television career amidst much hype and hoopla.
For more than a month, television viewers have been watching promos of Khatron Ke Khiladi Season Three. With Priyanka taking over as hostess from Akshay Kumar and the location moving to the picturesque Brazil, the show seems to have generated a lot of excitement.
But did it live up to them when it premiered last night?
Well, Piggy Chops certainly did, looking as attractive as only she can. She said her lines well too.
But the same cannot be said about the show. In its third season, it has become repetitive.
Thirteen male participants from different walks of life have tried to test their fear factor on the show -- Rahul Dev, Rahul Bose, Milind Soman, Armaan Ibrahim, Karan Sigh Grover, Shabbir Ahluwalia, Terence Lewis, Abhishek Kapoor, Dino Morea, Ritwik Bhattacharya, Manjit Singh, Cyrus Broacha and Angad Bedi. They are partnered with 13 pretty girls from all over the country. Together, when they do various stunts in Rio De Janeiro, it does look good. Maybe that's why you end up watching the show no matter how repetitive it is.
So how was the show different this time? The ease with which participants bonded with Akshay was missing. Perhaps because it was the first episode. Or perhaps it is difficult to gel with a femme fatale in your first interaction -- especially, like in actor Manjit Singh of Oye Lucky! Lucky Oye! fame's case, if you were an ardent fan.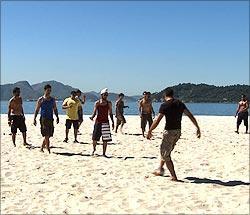 The first stunt, Aag Ki Dariyan, involved the participants to dive into a lake past midnight when the temperature dropped to six degrees centigrade, and release some weights collected underwater. And because there is a fire burning on the surface of the water, the dive needs to be undertaken very carefully.
National swimming champion-turned-model-turned-actor Milind Soman was the first to go. Despite being an ace swimmer, he failed to stay in water beyond two minutes and release the weights. Cyrus Broacha and Rahul Dev met with the same fate even though they stayed in water longer..
However, television stars Shabbir Ahluwalia and Karan Singh Grover managed to release one weight each and stay afloat in the competition. Ditto for Rock On!! director Abhishek Kapoor and choreographer Terence Lewis.
But the three men who proved their mettle were rugby player and actor Rahul Bose, anchor Angad Bedi and actor Dino Morea, who managed to release two weights. All three proved their mental and physical strength by staying in the chilled water for a long time. Formula car racer Arman Ibrahim, who seemed to be the most energetic man, managed to release two weights largely because of his positive energy.
The performer of the day was squash player Ritwik Bhattacharya, who stayed in water for a long time and released five weights.
The show had its share of tense moments when Manjot Singh almost drowned in the water and was senseless for a few seconds. The people in charge of safety had to pull him out.
Khatron Ke Khiladi looks good in parts, especially the ones with Priyanka in it. If only the chemistry between her and the contestants improve.