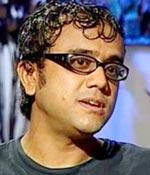 Talented filmmaker Dibakar Banerjee who has given us films like Khosla Ka Ghosla, Oye Lucky Lucky Oye and Love Sex Aur Dhokha, announced his fourth film today in Mumbai. 
A joint venture with PVR pictures, the movie will be based on a political story.
Explains Banerjee, whose films have always been praised by the critics and viewers alike, "Politics is something which I have always related with. The last five years I have spent in Mumbai has helped me get an understanding of the politics in the city of dreams. Prior to that I was in Delhi, which is anyway the hotbed of politics!" 
But haven't we already seen a number of films dealing with the topic?
Dibakar disagrees and proves his point, "Politics doesn't necessarily mean that it has to be with political leaders and voting. In our daily life, we experience a number of hurdles which are directly related to politics."
Sounds confusing?
The famed director explains further, "Like when we are waiting for an auto or taxi for which we have to wait for a long time, we feel that we are part of this whole political system and suffering because of that. Every minute of our life is full of unnecessary events, most of which are related to politics."
Talking about the budget of the film, Banerjee says with a smile, "It's going to be my biggest budget film so far! But for others it is a low budget film!" [Smiles]
Dibakar Banerjee's films have a unique sense of music. Will that be carried forward this time as well?
Dibakar points towards Ajay Bijli, Managing Director of PVR group and responds, "This is the first time I am working with a producer who has told me there should not be any songs in the movie! I told him but how will we be promoting that film because songs play a big part in promoting a film?"  
The director answers his own question in a few minutes, "Though there are no songs, let me tell you that the music will have a key role in this political thriller. I am hoping to find someone who can create that impact." 
Though the cast of the film has been not finalized, it is scheduled to go on the floor in April, 2011.
The film tentatively titled as political thriller is based on a European novel, published in the 1960's.