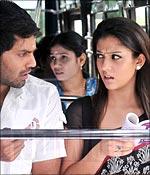 Pavithra Srinivasan reviews Boss (A) Baskaran
It's obvious, once you see the opening shots of Red Giants and Vasan Visual Venture's Boss (A) Baskaran, that director Rajesh M of SMS fame has decided to fall back on his strengths: an abundance of humour, plenty of anti-establishment rants, drunken stupors and a generous sprinkling of romance. And, like his previous venture, it does work. To a certain extent.
If it was a smart-alecky courier guy in love with the bottle and a defiant RJ in SMS, it's a smart-alecky jobless guy, Boss (A) Baskaran (Arya), who manages to pep the proceedings right from the first scene. With his fashionable shades, funky jeans and cool attitude,

Boss has got a loving family, Saravanan (a vet), mother (Lakshmi Ramakrishnan), who's always worshipping and visiting temples and a beloved friend Nallathambi (Santhanam), who runs a saloon, and is in the unenviable position of bailing out Boss from whatever scrape he finds himself in.

Boss hasn't finished his graduation and attempts it every year, during his exams he meets Chandrika (Nayanthara), his examiner, who dismisses him from the exam-hall. Later they fall in love.
For Arya, this has obviously been a blast, the man actually puts aside his permanently constipated expression and acts in this one, he is a laugh riot to watch.
Santhanam seems to have found his groove after a spate of flops; here, he's back to his SMS best.

Nayanthara looks like she's just recovered from some serious disease she is very thin. Her USP, though, is the fact that she looks genuinely amusing during the romantic scenes.
Screenplay lags at certain points, and drags towards the climax.
Arya's brother and his wife are scene-stealers as well, not to mention the secondary cast, like the blind girl and bank officer. Together, they all add to produce some laugh-worthy scenes.
Sakthi Saravanan's camera work and Yuvan Shankar Raja's music is appealing, the songs Yaar Indha Penthaan and Ada Boss is mildly appealing.
Don't think too much; just give yourself a break and enjoy the comic antics of Arya and Santhanam they are a blast to watch.

Rediff Rating: