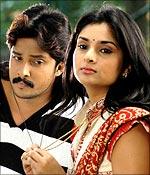 Shruti Indira Lakshminarayana reviews Jotegaara

Hit pair Ramya and Prem come together in this week's release Jotegaara. The romantic flick is directed by Sigamani. Ramya and Prem's first film Jote Joteyalli dealt with the problems of married couple, this film talks of the issues faced by lovers.

After a few ego clashes Priya (Ramya), the daughter of a top cop, and Vishwas (Prem), an aspiring singer, fall in love. Problems start when Priya's father mistakes Vishwas for a thief. What makes matters worse is that the Priya's marriage has already been fixed with a close relative.
Now the big question his whether Vishwas will be able to convince his and Priya's families or will his own family background lead him to sacrifice his love?

The film is not any different from most love stories. At certain places you even feel the complications in the narration.
In the second half actress Lakshmi, who plays the role of the heroine's aunt takes centre stage. She handles her role as a village elder with ease.
Ashish Vidyarthi does a good job both as a father and an encounter specialist.
Ramya dominates the screen from start to end. She not only looks ravishing but also adds life to her character through her acting. The chemistry between the lead pair is intact, however Prem has definitely given better performances then Ramya. This film also gives Prem a chance to show off his action skills.
Dodanna and Sadhu Khokila are part of this film too, but we have seen their funnier side in their other films. 

Though the songs barring Joteyalli baaro jotegaara... are not chartbuster material, they have a soothing feel to them. Choreographers add life to the songs.
Camera work by Raghav is particularly good in songs. Having said that there is nothing great about the introductory song over which the hero and the producer had clashed. You find yourself asking what the fuss was all about? 

Jotegaara is a predictable love story and given the delays it has encountered in its release, you are left to wonder if the wait was really worth it?
Rediff Rating: